Candlemas Coffee at St Luke's Church, Formby, in aid of Clatterbridge Hospital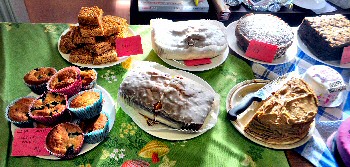 ON Thursday, 4 February 2016, in St Luke's Church's Meeting Room, Formby, a Candlemas Coffee Afternoon was held to raise funds for Clatterbridge Cancer Charity. Many local businesses were very generous with donations that provided the basis for the tea/coffee and refreshments, prizes for the raffle, hidden treasure game, and blind auction including the businesses and home bakers who provided the delicious cakes, biscuits and other goodies. The Co-op funeral care also added to their contributions with one of their staff coming in to provide extra help in the kitchen! "A huge thank you is given to all the people who provided these goods, and to Cathy of Cathy's Tea Room who also provided some sound advice and also to all who displayed our posters. Also, especial thanks to friends and family who gave their expertise and time and to St Luke's Church, who included the lighting of candles, with accompanying prayers, during the Sunday Service, and many of whose members provided essential help throughout the day. We wish to express our gratitude to all who turned out to support the event." said 1 of the organisers. The afternoon was very busy and lively prevailing with a party atmosphere. The end result was that almost £500 has been raised which will be winging its way to Clatterbridge to enable them to help in their work with cancer patients and their families. Clatterbridge Hospital has a special ethos, which helps at a very a stressful time, as of course do many other units dealing in this specialist field.

The charity is 1 of the largest networked cancer centres in the UK, which operates from 10 sites across Merseyside and Chester. It treats 221,000 to 30,000 patients a year, offering pioneering chemotherapy, radiotherapy and proton therapy treatments.

It is heartening that in a seemingly self interested world, there are still businesses and individuals willing to give, not only financially, but of their time and effort to help a good cause.

If you want to donate to Clatterbridge and help them transform cancer care, pleased go to:- ClatterbridgeCC.Org.UK and also find out more about the charity. Registered charity no. 1051727.
Click on here to see more photographs from this event.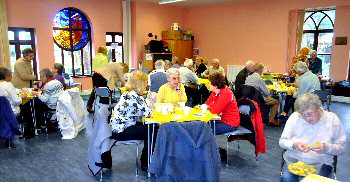 Some of the event's supporters and sponsors, who have devoted their time, expertise and/or have given donations:- Aughton Wines, Barry Atkinson Jewellers, The Beauty Salon, Formby, Broughs the Butchers, Cassidys, Greengrocers, China Butterfly, The Co-op Funeral Care, Costa Coffee (Formby Village), Cathy's Tea Room within Derbyshires, The Flower Studio within Derbyshires, The Good Wool Shop within Derbyshires, www.Gifts-In-House.com, Homebase, Hop and Horn, Ian Cockbain, Wealth Management, The Kitchen Cafe, My Local, The Old Book Shop, Prezzo, Rowlands Pharmacy, Silver and Rose Opticians, Spa on Harington Road (Formby). SouthportReporter.com, Subway, St Luke's Church Formby, Tesco Formby, Timpson Shoe Repairers on Chapel Street (Formby), Trimmers hairdressers, Brows Lane (Formby), Vanilla, Waitrose, Waterfields (staff), The Print Quarter and Woodwards.