Our child friendly Santa Watch Can Live On Christmas Eve...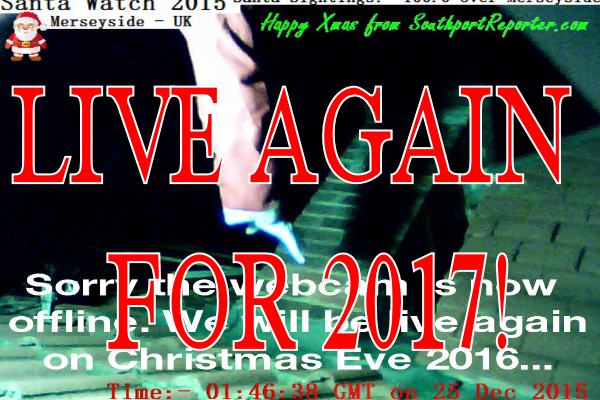 OUR Santa Watch webcam will be live again on Christmas Eve. The live webcam will be online from 3pm GMT and operational though out Christmas eve and Christmas Day. If you do miss Santa, we are recording the highlights again this year, so please se next weeks issue them. This year, the music will once again be by local band Psychic-Robot, Southport's Christmas band... To watch the Cam, please click on this LINK, on Christmas Eve.
---
Emergency Services have attend Shooting in Southport

MERSEYSIDE Police have confirmed that Emergency Services have attended the scene of a shooting, in the Southport, on Thursday, 21 December 2017. We are told that Officers received a call, at around 12.30pm, about a gun shot, within the area of Eastbank Street. Armed officers attended and a man in his 20's was found with a non life threatening head injury and he was taken to Hospital. A bus driver was also found to have received a minor injury and was taken to Hospital.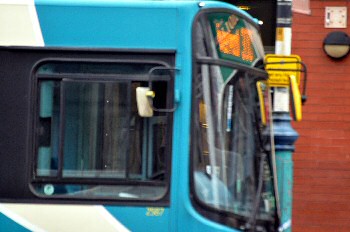 Enquiries are ongoing at the scene to establish the exact circumstances. Traffic was severely disrupted and also businesses affected due to the requirement to closure the roads around the area of the incident (Eastbank Street, from Kings Street to Lord Street) on 1 of the most important days of the business calendar for trade. Lord Street remained open despite some reports that it had been closed.

Chief Inspector Paul Sutcliffe said:- "I want to appeal to any witnesses to this incident to come forward. To fire any weapon in a busy street at this time of the day is incredibly reckless and there will have been numerous people in the area, some of whom may have seen the incident or somebody running off, or have dashcam or CCTV footage to assist. We are determined to find the person responsible and bring them to justice and I want to reassure people that there are extensive inquiries ongoing to establish the circumstances."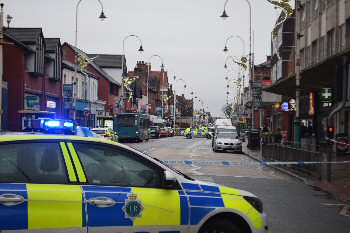 We are told that the Bus involved was a 300 service Arriva Bus. An Arriva spokesperson commented:- "We can confirm that an Arriva bus driver sustained injuries following an incident that took place on Eastbank Street, on Thursday, 21 December 2017. We are unable to comment any further as this is now part of an ongoing Police investigation."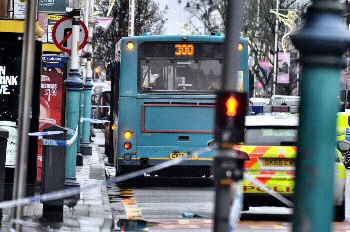 A chap from 1 of the pubs said that:- "We heard a loud bang and thought a car had backfired, but then we heard a commotion and came out to find out what happened." Another said:- "This is shocking. We have kids all around and people out getting ready for Christmas and this happens. We just do not feel safe anymore."
Police have also said that they would like to speak to a male in connection with this incident. He is described as a white male, approx. 5'11" tall, 19 to 20 years of age, wearing a dark puffa style jacket with the hood pulled up tightly around his head, a black scarf was covering his face and he had grey jogging bottoms. He was sighted prior to the incident travelling along King Street, towards Eastbank Street, on a dark coloured mountain bike, that had distinctive green handlebars. After the shooting, he rode off on the same bike along Eastbank Street and was last sighted in Princes Street, Southport.

Anyone with information is asked to contact Officers on the 'Gun Crime Hotline' on:- 0800 230 0600 or Crimestoppers anonymously on:- 0800 555 111. Information can also be provided via their website.