2005 Junior, 'Fame' Search For A Star

THIS weekend saw the third heat of the 2005 Junior, 'Fame' Search For A Star, held at Cassablanca, Pleasureland, in Southport. The standard was amazingly high and the judges had a hard time picking out the best six children to go through to the finals, so they picked seven instead! Well done to all of the children who took part in the contest and remember the next one is next Saturday... yep, same time, same venue.... 2pm Cassablancas... Don't miss it.

If the green box above does not show, you must download a new edition of Java. To get it just use this link:- java.com/en/index.jsp

Christmas Stocking Filler.... Simply Red – 'Cuba!' competition!

THE new DVD that was released on November 14 2005 is stunning. It has been recorded on location in Havana's 'Gran Teatro', in high definition and in 5.1 surround sound. 'Cuba!' encapsulates the energy of a hugely impressive live show, performed to an ecstatic crowd in August 2005. Impressively, Simply Red made history as the first non-classical act to be invited to perform in this historic venue.

Irresistibly upbeat and distinctly Latin in tone, 'Cuba!' follows the October release of 'Simplified', the new album from Simply Red which debuted at Number 3. The album takes familiar and deservedly well-loved tracks from the band's back catalogue and represents them in a stripped-down and, as the title attests, simplified form. It also features new material from the band, including their take on the Leon Russell classic 'Song For You'.

Directed by multi award-winning Hamish Hamilton whose previous credits range from Madonna and U2, to the Red Hot Chili Peppers and Jay Z, as well as such events as The Brit Awards and the MTV Europe Awards, the DVD includes the full-length concert, an exclusive behind-the-scenes documentary, a photo gallery shot by the award winning photographer Hamish Brown, and the video for the single 'Perfect Love', also shot in Havana.

"In concert at the Gran Teatro, whether alone in the spotlight or sharing in the stage in carnival fashion with native Cuban players and classically-trained but newly-liberated dancers, Mick Hucknall and Simply Red deliver an inarguable truth: they are one of Britain's best ever bands, and this is them at their finest" in the words of Alan Jackson. The complete track listing for the DVD is as follows:- A Song For You; Your Mirror; Stars For Your Babies; Sop Beautiful; Smile; Home; Sad Old Red; Holding Back The Years; It's Only Love; More; Love Fire; Sunrise; The Right Thing; Come To My Aid; Perfect Love; Fairground; Something Got Me Started and not forgetting If You Don't Know Me By Now

This is a fans dream DVD. We have rated it at 5 out of 5 and you could win a copy of it... All you have to answer is this simple question:- "Michael Hucknall was born in Manchester's St Mary's Hospital on June 8 of what year?" Then send us an email to:-

The subject line must be "Simply Red 05", all so the email must have your full name, your full postal address and phone number. All entries must be in by 12:00pm on Friday 2 December 2005.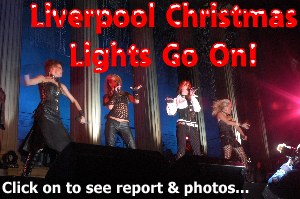 Britain's shoppers firmly reject extension of Sunday shopping hours
FORMBY LIGHTS UP FOR XMAS...
Liverpool Christmas Lights Go On...
40 years on, millions of passengers still not belting up
Overnight tunnel closures
Foresters bring the woods alive in the classroom
Government Civil Partnerships - 'Marry' for money not love!
LOCAL SHOPS HAVE AN ANSWER TO BIRD FLU - AND NOBODY KNEW!
WORKING IN PARTNERSHIP TO DEVELOP A SENSIBLE APPROACH TO ALCOHOL
Vue Film Showing Times.
DON'T FORGET WILD BIRDS DURING COLD WEATHER
Redgate Rovers, Latest Results
The latest Southport pub, but No frills-
EVERY LESSON COUNTS
Revolutionary ID Scanner Launched To Combat 'Yob Culture'
CELEBRITIES AND SUPERHEROES
A tree-mendous norse-ry school!
Paula Dickinson Takes To The Stage...
LOST FOR WORDS
FIRST BIRTHDAY HISTORY BOOK
COMPASS POINTS TO ANFIELD TO HELP RAISE MONEY FOR CHARITY
LETTERS TO THE EDITOR:- "Southport and Crime."
More 'Fame' Heat 3 Search for a Star Photographs-
Stop extending sunday trading hours
Who Do You Think You Are?
Home Heat Helpline launched in Liverpool
CALDAY GRANGE GOES THROUGH TO BAR NATIONAL MOCK TRIAL FINAL
ABE in the Coronet
WIRED GENERATION TURNED OFF BY POWER CUTS
Merseytravel takes on UK's best at national awards
LETTERS TO THE EDITOR:- "Sefton Council"
BARCLAYS HELP TURN OLD COINS INTO CASH FOR CHILDLINE
Merseyside's Binge Drinking Clampdown-
Teaching assistants are top of the class
Utility Trust Funds - Helping People to Stay Warm this Winter
Southport Spinal Unit Nets Boost From NEC Wheelchair Tennis Roadshow
Mosaic Workshop @ the Atkinson
Peter Pan flies to new home
ASSAULT, SOUTHPORT
CAT SHOOTINGS IN FAZAKERLEY
DaDaFest gets underway
LAUGHING BACK TO HAPPINESS!
THE CASH-RICH, VITAMIN-POOR GENERATION
BBC CHILDREN IN NEED NIGHT...
~HAPPY BIRTHDAY~

If you have someone you want to say happy birthday to, for free,

then use the email address below to send us the names

you want us say happy birthday to, and/or a photograph.