CHARITY FOOTBALL MATCH
Photograph by Patrick Trollope



SOUTHPORT Sea Cadets have set the challenge to the Pavilion Pub and Resturant football team for a charity match to take place at Southport KGV sports ground Southport Road. The match will take place on Sunday the 9 April 2006 with the kick off being 10:00 am. The proceeds will go to Southport Sea Cadets. The Sea Cadets Team Manger PO Lawrence Petford has said:- "The cadets are really looking forward to the match and the cadets think that they are ready for the challenge."

Please feel free to come along and cheer them on!

Make war not peace...!



FIND OUT lots more about Pleasureland's new attractions for 2006 in next weeks issue!

Wanted!

MERSEYSIDE Police have issued this CCTV picture of a man that officers would like to speak to in connection to the assault, that took place in St John's car park in Liverpool city centre on Thursday, 8 December 2005.

Anyone who can identify him, or who has any information regarding his whereabouts is asked to contact Crimestoppers on 0800 555 111.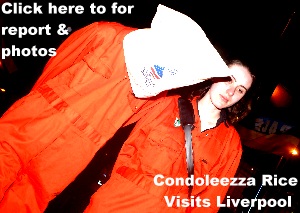 Southport Continental Market In town
Classic FM Searches for the UK's Most Inspirational Music Teachers
LOCAL AUTHORITIES ARE DOING EVERYTHING IN THEIR POWER TO KEEP COUNCIL TAX DOWN
US Secretary of State, Condoleezza Rice, visits Liverpool
Haydock Park

Racecourse 'Easter Saturday' competition...
Vue Film Showing Times.
Miss Hawaiian Tropical Great Britain 2006 Fashion Show!
OLDER PEOPLE SAY THE TV IS THEIR MAIN FORM OF COMPANY
GUIDE TO CALLING DEAF FRIENDS AND RELATIVES LAUNCHED
WARRINGTON FILM FESTIVAL IS COMING TO PLEASURE YOUR EYEBALLS!
MERSEY SCHOOLS IN FINALS
UNION DEMANDS FOR PENSION SCHEME WILL COST COUNCIL TAXPAYERS MORE THAN 2% EXTRA A YEAR
FASHIONISTAS OR FASHIONWASTERS?
Peter Brown Craven Minor League
And sow to bed...
Celebrate St George's Day with a RNID skydive!
Communication made easier for Deaf people at their GP surgery
First ever wind band opera premiers in UK and Europe
LOTTERY MILLIONS MAKING PLAYFUL IDEAS REALITY
'Fame' the 3rd and last Semi Final for 2006
VOICE OF AN ANCIENT BUILDING
Merseyside's "Gold Zone Team" Short Are Listed For National Award
IVA numbers rocket amongst the under 30s
Head teachers get lessons in aerobics
MEAT PRODUCTION HIT BY PENSIONS STRIKE ACTION
LADIES NEEDED TO RUN IN RACE FOR A CURE
10th ANNIVERSARY OF MODEL VILLAGE LAUNCH
May It Be A Bridal Day
Last chance for Sefton to choose its community champions
ATTEMPTED BURGLARY, ABBEY NATIONAL, PRESTON NEW ROAD
THANKS A MILLION
WORK BEGINS ON NEW ERA FOR LIVERPOOL SCHOOL
HAVE YOU SAVED ENOUGH FOR A COMFORTABLE RETIREMENT?
Citizens urged to get involved in North West community decisions
SPRING CLEAN YOUR PET'S HOME TOO!
GOLDEN OLDIES ARE FIRST CHOICE CELEBS TO 'GET ON THEIR BIKES' FOR NSPCC
Pioneering community project launching in Liverpool 08
~HAPPY BIRTHDAY~
If you have someone you want to say happy birthday to, for free,
then use the email address below to send us the names
you want us say happy birthday to, and/or a photograph.
Email us today at:-

birthdays

@southportreporter.com