Chinese New Year 4706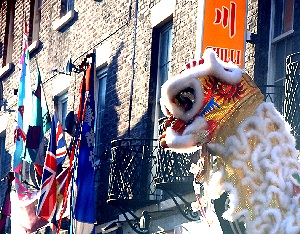 THIS is the Chinese New Year of the Rat. All over the world, people are celebrating the fact, no less so than in Merseyside. In the Southport area this weekend, a group of Kung Fu adepts visited a number of premises and danced a very skilful Lion Dance outside the doors, accompanied by drumming to drive away evil and to ensure good luck for the establishment in the coming year. The costumes are lavish and colourful and the agility of the participants amazing. No wonder, as every move the Lion made is based on precise Kung Fu moves, a tradition that goes back over 2 thousand
years.

After the Dance, those same movements were demonstrated in a martial arts display, before the warriors donned their costumes again and visited the customers dining in the restaurant, causing much merriment.

On Sunday, Liverpool China Town and surrounding area was thronged by thousands of people watching as other Kung Fu disciples performed the same Loin Dance before premises and receiving their lettuce and fruit en route. Agile multicoloured dragons also visited premises feasting on lettuce and collecting money hung over the portals of the establishments.

In Liverpool, these visits were accompanied by much drumming and very loud firecrackers, carefully caged and attended to by Health and Safety Officers. A devil darted around and a Mandarin with an assistant distributed red good luck envelopes with coins and chocolate money to the crowd. As these processions wound around the streets, there was also a parade with flags involving various dignities of the City. A firecracker display took place in Great George Square.

Aside from these events, there were markets in the adjacent streets, an orchestra on a bandstand and a variety of food and drink suppliers. Plenty indeed to provide a good day out for the visitors, who flocked from all around. Many were from Merseyside but with a good few from further afield, including a significant number of Chinese people who were studying or working in this country. Once again Liverpool's Chinese community has reminded us of it significant presence in the City.

Other Chinese events Capital of Culture will run throughout the coming year including:-

7 March 2008 to 8 March 2008, National Ballet of China, at the Liverpool Play House

15 March 2008, Beijing Modern Dance Co, are due to provide the first dance for the Merseyside LEAP Dance festival at Southport Arts Centre

14 March to 15 March 2008, in the Great Hall, Hope University, The Long Walk in memory of the cockle pickers tragic loss in Morecambe Bay 2004

5 July 2008, Chinese Dub, Internationally acclaimed musician, Jah Wobble and Chinese Pagoda Youth Orchestra, spreading Chinese Music to a wider audience

As an adjunct to these celebrations, Urban Strawberry Lunch provided ongoing entertainment in St Luke's Church ruins, Leece Street (see separate article.)

新年好從Southport & Mersey 記者對所有我們的中國讀者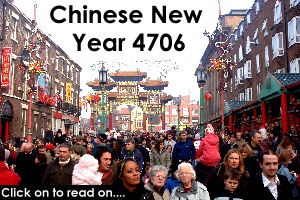 Get 10% off @ Felicity Hat Hire Southport!
LOG onto www.felicity-southport.co.uk to get a fantastic offer of 10% off your hat hire or purchase costs!

This is Felicity Hat Hires way of celebrating both Liverpool's Capital of Culture year and the Southport Shop's 20th Birthday. This offer is only open for customer using the Felicity Southport website and is only for the Southport Shop on Botanic Road, Churchtown. The offer is running until 31 March 2008.
~HAPPY BIRTHDAY~
If you have someone you want to say happy birthday to, for free,

then use the email address below to send us the names

you want us say happy birthday to, and/or a photograph.

Email us today!