SEFTON'S RED SQUIRREL POPULATION CONTINUES TO COLLAPSE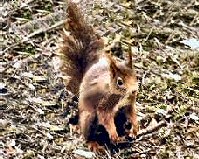 FIGURES released on 29 January 2009 by the Lancashire Wildlife Trust have confirmed that the number of red squirrels in the Formby and Ainsdale pinewoods has fallen dramatically as a result of the epidemic of squirrel pox virus which has swept the area for the past two years.

The woodlands have been surveyed six times a year by volunteers since 2002, enabling accurate monitoring of changes in red squirrel numbers.

The population had shrunk to 40% of its normal size by spring 2008 and to 20% by early autumn. Red squirrels have continued to be lost since then and it is likely that only one in ten of those present in 2006 have survived. It is possible that only a hundred or so animals now remain in the pinewoods.

The squirrel pox epidemic has not been confined to the main Sefton Coast refuge woodlands. Very large numbers have also died in the urban areas of Formby and Ainsdale, but it has not yet spread south to Hightown or Blundellsands and Crosby.

Although no new cases of this deadly virus have been reported since Christmas there is no guarantee that the epidemic has burned itself out – it may reappear at any time.

Local nature conservationists will therefore redouble their efforts to save Sefton's red squirrels and we ask members of
the public to continue phoning in sightings of any squirrels, red or grey, in the area to us on 07590-745862 or 0151-920
3769.

Steve White from the Lancashire Wildlife Trust said:- "We have long known that the spread of squirrel pox from greys was the major threat to the survival of Sefton's red squirrels, but the speed with which this disease has taken hold has taken us by surprise. All is not lost, though. If we can prevent a recurrence of the disease then the surviving red squirrels could re-colonise the area quite quickly."
APPEAL FOR WITNESSES... ROAD TRAFFIC COLLISION ON LORD STREET, SOUTHPORT

MERSEYSIDE Police are appealing for any witnesses to a road traffic collision that happened on Lord Street, Southport, Merseyside, on the night of Saturday, 31 January 2009.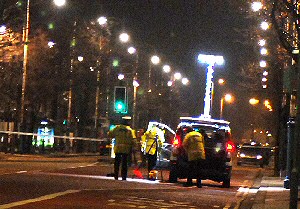 At around 11.10pm a private taxi was in collision with a 37 year old local man who was crossing the road near to the Sainsbury's store on Lord Street. The man was taken to hospital with serious head injuries and is in a critical, but stable condition. Anyone who saw the collision is asked to contact police on 0151 777 5771 or Crimestoppers on 0800 555 111.
Credit Union AGM
THE Crosby and Thornton Credit Union Limited are holding their Annual General Meeting on 12 February 2009 at 7pm in the Crossroads Centre, (Near St Luke's Church).