Liverpool's Arena Wheel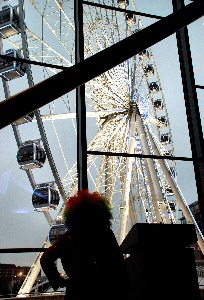 A new big wheel has replaced the temporary visitor, which was in Chevasse Park, at Christmas 2009. This new wheel is adjacent to the Echo Arena and opposite the Albert Dock. It provides an interesting addition to the sky line, especially when illuminated at night. It was officially opened by the Lord Mayor, Councillor Mike Storey, on Thursday, 25 March 2010.

After an initial wait enlivened, by buffet food and drink, and clowns and face painting the children, competition winners listened to short speeches by Events Organiser, John Brown; Nigel Ward of Great City Attractions, and the Lord Mayor. Then
excited winners of a competition clambered into the wheel's capsules and were rewarded with a splendid ride, despite the rather disappointing weather. During the wheel's circuits a lively fireworks display took place alongside it. This ride has been erected, Nigel Ward had informed us, because when Great City Attractions had been seeking new venues, many people had recommended Liverpool. This new wheel is with us until at least next spring.

If you wish to be rewarded with a fascinating ride, do try the wheel yourselves. It really does feel sturdy, it turns smoothly and affords fantastic views of our great city from ever-changing angles. The experience is also complemented by commentary, so for those less familiar with the City it is a great opportunity to gain one's bearings before further exploration.

For more information go to:- accliverpool.com.

GET OUR DAILY NEWS EMAIL

KEEP up-to-date with our daily news email service. We are slowly getting to the end of our Beta Test of our new news service on Formby-Reporter.com. So if you have not signed up, do so now. If you have already subscribed and not getting emails, remember to click on your confirmation email. So if you did not get one, email us today via:- news24@southportreporter.com and we will resend it to you!
BUSINESS FOR SALE

SOUTHPORT'S small, yet well known Shamrock Sandwich Shop on Hill Street, Southport (PR90NW) is now up for sale. The business has a good regular clientele, making it an ideal business opportunity. Call:- 01704 501 769 for more information.