Christmas Festivities, Liverpool, 2009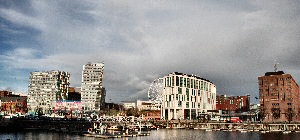 CHRISTMAS began this month with the appearance of the giant Christmas tree by Clayton Square and numerous other clues about the City. On Wednesday, 18 November 2009, an Ice Palace opened in Liverpool 1 and a parade of Christmas characters ensued. But on the 20th, the spectacular Liverpool ONE wheel opened to the public. This huge structure now dominates Chevasse Park. At 6o metres (82 metres from sea level), it is allegedly the only wheel of its type outside Los Angeles, in the USA, to be built on top of a building; A massive undertaking! Its framework of steel weighs a thumping 360 tonnes and, with the added weight of its foundations, many tonnes on top of that. Below it is the multi-storey car park. Erected by Mellor Construction, this wheel is another first for Liverpool. The construction workers used ingenious tricks to bring the parts together and the weather was not always co-operative, but it has been accomplished: the workers deserve praise. From its lofty heights, comfortably ensconced in sturdy gondolas, passengers are afforded magnificent views over Merseyside and across to North Wales, and beyond no doubt if the weather is right.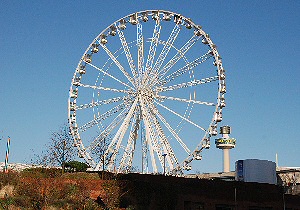 Each of its 40 gondolas can take, in comfort, 6 passengers and for the very wary there is a panic button in each, which would allow that gondola to reach and stay at the bottom for a speedy departure, there probably won't be too many of those but it is reassuring. Each ride allows 3 circuits, with a commentary provided. It is a great experience and, at £6 per head (£5 concessions, £4 for children) not ridiculously expensive. It was certainly proving popular on its first day.
Opening times are:- Sunday to Thursday ~ 10 am to 10pm; and Friday and Saturday ~ 10 am to 11pm - until 31 January 2010.
Advance booking at:- liverpool-one.com.
Other parts of Liverpool are also buzzing as Christmas approaches and all around the City cleverly painted Go Penguins are appearing. We spotted some, adorned by children's groups, nestling in Waterstones and opposite. Other visitors, as befits such creatures, are hanging out at Salthouse Dock. How many more can you find? Also their fellow, Patrick the Penguin has been heard pleading the green cause on air and is set to visit interested groups in the area. In Williamson Square, there is an Ice Rink to experience, a merry-go–round and other attractions including the German Market. All told Liverpool is a good place to go for your festive shopping.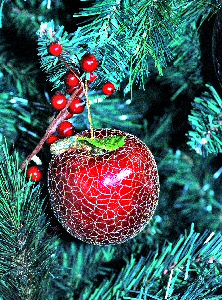 Tell us your predictions for 2010...
LET us know your predictions for 2010 as we will be doing a prediction page very soon. Email yours today to our news room via:- news24@southportreporter.com.