Churches Together Family Fun Day 2010!
Photographs by P Trollope report by C Trollope.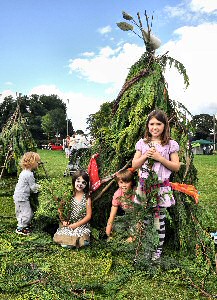 FORMBY Churches Together held a Free Family Fun Day, in Duke Street Park, Formby, on Saturday, 14 August, 2010. The Theme this year was Our Wonderful World and although it was for the under 12 year olds, many adults and young people with younger offspring attended between Midday and 4pm. Parking was difficult and the spaces along the roads bordering the park were at a premium. However everyone enjoyed themselves and there were hardly any calls on the local members of St John Ambulance Brigade.

Teams of volunteers appeared between 8 and 9 o'clock with trailers and began to set up the stalls. Even though there was a cloudy sky and an off sea wind, everyone was hopeful that it would not rain! It didn't! There were 12 local Christian Churches represented and each supplied their own predetermined items while Waitrose and M & S also very generously supplied refreshments. Those free refreshments were so popular, that they ran out about half an hour before the show closed.

There was almost everything for the young people to see and do; some stalls were like the old fashioned Fete events of years ago, while other stalls were very modern. Here is a list of some of the things available for all who came to the Fun Day: Eco-boat Rides; Petting Zoo; Donkey rides; Exotic Animals; Tennis and Football Coaching; Circus skills; Beat the goalie; Climbing wall; Eco-den building; Train rides; Pine Pixies under 5's area; Messy Church; Fun science; Bouncy slide; Face painting; Tattoos; hair braiding; Jewellery takeaway; Plant a Pot; Waitrose barbecue; Refreshments; Reckless Elbow Irish Band; and lots more fun including football, golf, games and activities, even a magic clown.

Many hours of careful planning and hard work, before, during and afterwards resulted in a real Family Fun Day, and everything, for the third year running, was free for everyone who attended. The sponsors, and the 11 churches, along with the visitors and throughout the day over 200 volunteer helpers, made it a very happy event to be remembered with pride. So thank you sponsors, and Christians one and all. That Family Fun Day was a real gift to our local people, Christianity at work in the neighbourhood.

The Churches taking part were: from Altcar Village, St Michael's C of E; from Hightown, St Steven's C of E; from Formby and Freshfield, St Jerome's RC, United Reform Church, Community Church, Holy Trinity C of E, St. Ann's RC, St Peter's C of E, Our Lady's RC, St Luke's, Redgate C of E, and Messy Church C of E...

| | | | | |
| --- | --- | --- | --- | --- |
| This week's news in pictures | | | | |

KEEP up-to-date with our daily news email service. Sign up to our new news service on Formby-Reporter.com. So if you do subscribed you can keep in up-to-date with what's going on. It is free and we do not send out massive amounts of emails. Also your email is kept under the UK's Data Protection Act, so you can be sure that you will not have problems.
...HAPPY BIRTHDAY...
If you have someone you want to say happy birthday to, for free, then use the email address below to send us the names you want us say happy birthday to, and/or a photograph. Email us today!