2010 SOUTHPORT AIR SHOW WAS A WASH OUT!!!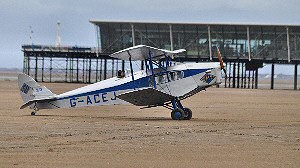 THE Southport Air Show is one of the biggest events in the town's calendar and, according to Merseyside Police, it attracts more than 80,000 people every year; well, that was up to this 2010! This year the weather struck a heavy blow to what is one of the best air shows in the UK, as very heavy rain flooded the already waterlogged beach. On the day, Sefton MBC told us that:- "The Southport Air Show had to be cancelled due to severe overnight weather which caused flooding at the site. This, together with the weather forecast for the rest of the day left us and the other organisers with no option other than cancellation. We can only apologise to our customers for any inconvenience this causes. Advance ticket holders will be able to obtain refunds by returning unused advance tickets to Sefton Arts, Waterloo Town Hall, Great Georges Road, Waterloo, L22 1RB" As a member of Sefton's Tourism Team said:- "Unfortunately we cannot control the weather." Thankfully though the weekend was not a total wash out as Saturday did get some action, with the Red Arrows, a De Havilland Fox Moth, Tiger Moth and even a Dragon Rapide taking to the skies. Also a fantastic flypast put on by the RAF Battle of Britain Memorial Flight, with a fitting display of a Spitfire, a Hurricane and the Dakota. Rocking the beach and sending out shockwaves through the rain clouds were the Tornados with an explosive show for the spectators who braved the elements. At the end was a graceful display by a glider that took off and then landed on the beach. To see our full photographic coverage from Saturday, 18 September 2010, please click on here now.
Also in next week's issue we will be revealing the winner of our photo competition. If you have not entered, please do so, as soon as possible! We will be closing the competition on 28 September 2010 at 12.00pm GMT. All you have to do is, email them to us via our email address, with your full name and address. We will put the best ones on the site and then select the very best one, if high enough resolution and we will send you an 8" by 12" print of your picture for you to frame! Standard T&C apply.

| | | | | |
| --- | --- | --- | --- | --- |
| This week's news in pictures | | | | |
...HAPPY BIRTHDAY...
If you have someone you want to say happy birthday to, for free, then use the email address below to send us the names you want us say happy birthday to, and/or a photograph. Email us today!

KEEP up-to-date with our daily news email service. Sign up to our FREE daily Email News Service (ENS) on Formby-Reporter.com. So if you do subscribed you can keep in up-to-date with what's going on. It is free and we do not send out massive amounts of emails. Also your email is kept under the UK's Data Protection Act, so you can be sure that you will not have problems.