Formby Christmas Lights 2010
Photograph and report by Patrick Trollope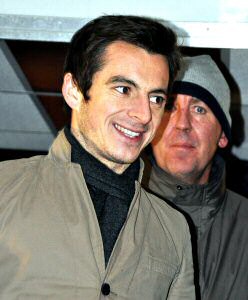 FORMBY'S Christmas Lights got a fantastic switch on with entertainment and VIP's on Thursday, 25 November 2010. The nights started at Prichards Bookshop with a book signing of the Bufferlow, and then a performance by a local drama group, also ABD's Her Benny, Dune FM, The Formby Rotary Club Carol Wagon with Father Christmas, Abigale Bridggman (Miss Southport 2010), a fun fair, even a local school choir and lots more...

At the switch on was also Martin Hovden who was one of the original driving forces behind the light switch on and the most important committee member, Peter Dunne, who without his efforts over the last 10 years plus, Formby would not have lights!
Peter Dunne is now retiring from what he has created, leaving it the hands of the Formby Business Village Partnership.

"He has developed the switch on to a point none of us could have imagined for a small village. His hard work over the years have brought so much joy to the village and kept the lights on over many Christmases. We thank him for all his efforts and wish him all the best for the future." a spokesman for businesses in Formby Village told us.

In front of a packed out village, the lights where turned on by Everton's Leighton Baines. Well done to all of the Formby Lights Committee and the Dune FM and the Champion Newspaper. If you missed the switch on, do not miss the chance to see Formby Village being transported back to Victorian times when Dickensian Day returns on 4 December 2010! Click here to see more Christmas Light Switch on photographs.


KEEP up-to-date with our daily news email service..

~ Sign up ~
to our new news service on Formby-Reporter.com.

If you subscribed you can keep in up-to-date with what's going on in and around Merseyside. It is free and we do not send out massive amounts of emails. Also your email is kept under the UK's Data Protection Act, so you can be sure that you will not have problems.
| | | | |
| --- | --- | --- | --- |
| This week's news in pictures | | | |