90 (Speke) ATC Group Squadron's New Mini Bus is Delivered
Photographs by C. Trollope.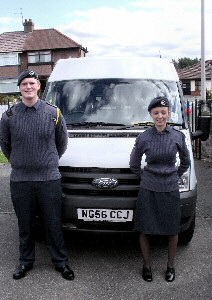 THE 90 (Speke) ATC Group Squadron, on Saturday, 19 March 2011, took possession of a brand new minibus which it had taken them 12 months to raise the money to buy.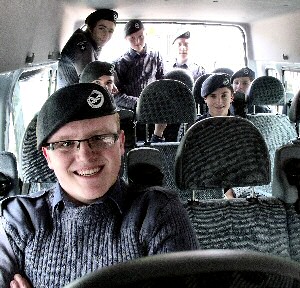 The cost of this bus, £10,000, was met by them after a relentless fund raising drive, with the help of local and national companies including:- Garston Royal British Legion, National Grid, Santander, Novartis Pharmaceuticals, Fords Motor Plant, Merseytravel and Argos. Also the Police Chief Constable helped! Chairperson, Pat Lawrence, :- "It is fantastic to have this new bus. Our cadets come from areas recognised as deprived and under privileged, so it is so important for them to have this vehicle. They have worked so hard. They want to thank those who have given them support. So many people have all helped us to raise the funds, with things like curry and quiz evenings, bingo afternoons. They have washed cars, held table sales, distributed catalogues, attended local shows and even done numerous bag packs! That is not forgetting the truly amazing efforts our cadets have gone to as well. The bus will be put to good use from day one, helping our cadets to continue with their activities that include the Duke of Edinburgh Award, and many sporting activities and other squadron related outings."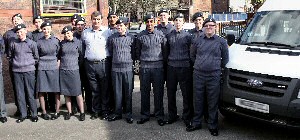 The bus arrived at the squadron, which is based in Garston, Merseyside, and was greeted by the chairperson for the civilian committee and cadets. To find out more about the group, go to:- www.aircadetcentral.net aircadetcentral.net.