Author Jon Mayhew visits Formby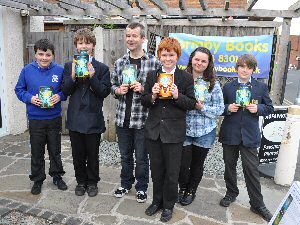 THE fantastic Jon Mayhew gave an enthralling talk, as he entertained a select number of his fans, at Formby Books, on Thursday, 3 May 2012. If you do not know who he is, well he is the author of many spooky books and he attended the shop to promote his new book, "The Bonehill Curse." At this very special event were some students from local schools, as well as parents and some other fans. Followers of our Facebook Page can see a video clip of the author playing one of his many musical instruments at the event. He also got some of the audience to use the microphone to see who had the most frightening laugh. This visit comes as part of a build up to this year's Scare Fest Book Event, of which, again, will be running in Crosby. We can now reveal that we are working with the creator of the event, Tony Higginson from Formby Books, on this project and full details will be posted in forthcoming editions of Southport and Mersey Reporter, very soon. So keep your eyes focused on our next editions as you never know what might be happening! Also if you have not got a copy of Jon Mayhew's new book, why not visit Formby Books, within Derbyshires, in Formby (L37 4DU) for a copy. We will have a few for sale on our Mersey Reporter Shop, very soon. If you go quickly to Formby Books, you might also get a signed copy, as a few books are still available to order...

Click here to see the photographs that we took at Jon Mayhew's book event. if you missed this one, don't mist the next as the are fantastic fun for all ages, as are his books...
...HAPPY BIRTHDAY...

Dan Forshaw - Happy Birthday!

I

f you have someone you want to say happy birthday to, for free,

then

use the email address below to send us the names

you want us say

happy birthday to, and/or a photograph.

Email us today!
Manx Direct

08447 402 038

2 Years Parts & Labour Worranty
This Weeks Edition - Audio Copy
Click here to hear this weeks edition in audio format. Please let us know what you think about it. via emailing us. Also if you have a child who can draw a face, send one in and we will look at using it for our news reader for an edition. Adults can try as well! You will get a copy of the animation sent to you and credit on the animation as well!.
| | | |
| --- | --- | --- |
| | Click on to read on! | Click on to read on! |

KEEP up-2-date

with our free daily news emails. Are you subscribed? Si

g

n

u

p

today

to

our daily email news service via... Formb

y

-

Re

p

orter

.com

.

If you subscribed you can keep in up-to-date with what's going on in and around Merseyside. It is free and we do not send out massive amounts of emails. Also your email is kept under the UK's Data Protection Act, so you can be sure that you will not have problems.