Southport Model Railway Show 2013
Photograph by Patrick Trollope.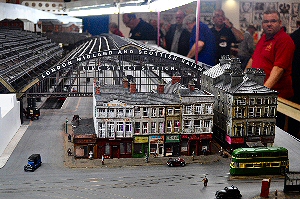 THE 40th Southport Model Railway Exhibition was held at Birkdale High School, and ran over 28 September to 29 September 2013. The event had a special attraction, a model of Lime Street Station, scaled down with working trams and even moving vehicles! Plus the show offered for the public many other layouts to look at. One of the other layouts including an American railway layout, compete with snow. Outside the event also has a working model steam train, from Southport Model Engineering Club giving rides to young and old.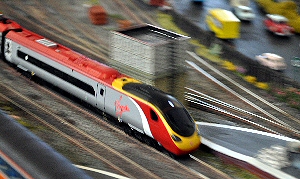 It might not be the biggest model railway exhibition, but it what they miss out on size they made up with quality. It was a very interesting event that had many surprises hidden for those attending to find, as well as giving some the opportunities to learn new skills. Amongst the trade stands and the models, where 2 stands advertised full size railways, the local West Lancashire Light Railway (W.L.L.R.)and the Welsh railway, the Rheliffordd Talyllyn Railway.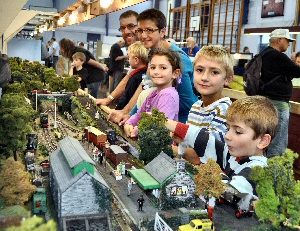 Exhibition manager Tony told us that:- "This was a special event, as it was our 40th show and we hope all who attended enjoyed it as much as we have. I would like to thank all our volunteers, exhibitors and traders, as without them we could not have held the event. If any of those who attended or your reads would like to find out more about the Southport Model Railway Show, then they can do so via visiting our website."

To see more photographs from this event, please click on HERE now. Also if you attended, please let us know what you thought of the event by emailing our newsroom to:- news24@southportreporter.com.
...HAPPY BIRTHDAY...

Happy Birthday Rinat from your big Sister and your Mum. xXx
If you have someone you want to say happy birthday to, for free, then use the email address below to send us the names you want us say happy birthday to, and/or a photograph. Email us today!
B.O.A. 70th Anniversary DVD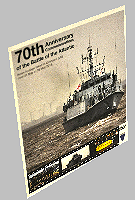 THE video footage we have taken at the 70th BOA events this year in Liverpool has now been fully edited is available to buy, on a DVD, from our Online Shop, on Mersey Reporter very soon. For each DVD sold, £3.00 will go to the Liverpool's Lord Mayor's Charity Appeal. (Registered Charity No. 229539) At this stage we can only do UK postage options, but if you are outside the UK, you can still order copies, but only by emailing us to:- news24@merseyreporter.com with your FULL address and we will get back to you with a postage cost and a payment link, should you wish to continue.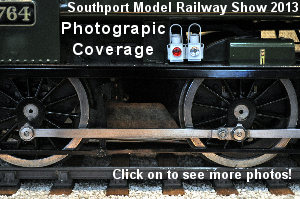 --- MORE NEWS REPORTS BELOW ---

INTRODUCING THE EVERYDAY HEROES WORKING IN MERSEYSIDE'S AMBULANCE SERVICE
Southport Model Railway Show 2013 - Photo Coverage
YOU'VE GOT MAIL - 5,600 IN SOUTHPORT SAY YES TO EMAIL TV LICENCE
Southport man able to ski again after pioneering radiotherapy treatment
'100 Acts of Minor Dissent' - Southport

Comedy

Festival
British Musical Fireworks 2013 Are Coming!!!
CLA scrap metal victory will frustrate thieves
Swap Hibernation for Blood Donation
Escape to Neverland with Liverpool Empire Youth Ballet's debut production of Peter Pan
Preparing our young people for today and the future
Cunard Building set to return to its roots
ID FRAUD - A GENERATION GAME
Limehouse Lizzy 2013 tour
4See Group choose EssentialSkillz as E-Learning partner
A lotto holiday for Walton residents!
City cracks down on school bullies
Rent arrears spiral – Bedroom Tax in Merseyside 6 months on
SOUTHPORT BOYS SHARE MORE THAN A BREW
LJMU to seek candidates for study on 'what makes a successful entrepreneur' at FSB's Small Business Summit
Autumn Steam Gala 2013
Vikings sign Liam Carberry
Hall's Wing Restored After 60 Years
Formby Village businesses face another blow
Lowest-paid Liverpool University Staff Singled Out for Continued Attack
Work to cut fuel bills
Genesis Revisited is to be released to coincide with October 2013 UK Tour
Women wouldn't tell an employer they were pregnant if offered a promotion or new job
SCHOOL SWEETHEARTS LAUNCH 3RD STORE IN BIRKENHEAD
Multi-lingual City has been celebrated
Mayor lays out scale of financial challenge
Karen Potter Craven Minor JFL
GMB FEEDBACK REVEALS DETAILS ON NEW ROUND OF CUTS AT 20 COUNCILS FROM APRIL 2014
"Affordable rural housing is essential." says Countryside Alliance
NEXT OF KIN APPEAL - CLIVE WAUGH
Mayor deal to help energise economy
Reminder not to

drive

on the beach!


Formby Viking Medieval Market 2013

ON 5 October 2013, the Formby Viking Medieval Market will be held at The Guild Hall, Church Road, Formby, Merseyside from 10am to 4pm. The event is a Viking and Medieval re-enactment event, which includes a large market, living history displays, archaeology and history displays, archery, runes, combat and crafts, etc. Keep an eye on here for more information.

| | | |
| --- | --- | --- |
| | Click on to read on! | Click on to read on! |

KEEP up-2-d

ate




with our free daily news emails.



Are you subscribed? Si

g

n

u

p

today

to

our daily email news service via... Formb

y

-

Re

p

orter

.com



If you subscribed you can keep in up-to-date with what's going on in and around Merseyside. It is free and we do not send out massive amounts of emails. Also your email is kept under the UK's Data Protection Act, so you can be sure that you will not have problems.