BEER SET TO EASE TOP UP ON HEADY INFLATION
Report By Dominic Bonner.
DRINKERS are yet again to pay the price of inflation, as nationally the price of a pint is set to rise on Monday.

It is often seen by the public as a somewhat cynical pre-budget move by breweries and public houses as a way of hiking prices up further. In order to squeeze the modest purse strings of taxpayers before chancellor Gordon Brown sets his annual levy on the price of alcohol.

A Southport drinker said, "This is yet another tax on a social past time that has seen prices of alcohol rise steadily over the last twenty years. It comes as no surprise and can only be seen as a cynical move by the breweries as they are set to cash in even further with the twenty four hour licensing laws to be introduced this summer."

The price of bitter is set to rise by seven pence with the price of a pint of lager to receive a whopping twenty pence on its current over frothed value. But with haulage, yeast and production costs increasing slightly in line with inflation, it is believed that the government's budget for this year is not likely to dampen drinker's spirits too much.

SO who has won the VIP Tickets?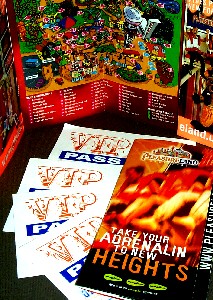 Well alot of you entered, but only one could win. Now you are asking who it could be..... Well I will now revel the name of the lucky winner and the answers to the questions.
Well done to every one who entered. The next game starts next week and their are 3 prizes up for grabs!
Now to reveal the name of the winner.....
It is psycho111 (chris adams) Well done.....
The answers are as follows.
Question 1:- Southport Pleasureland's Cyclone was built from what tree (in full)? SEE SGB.... = Nicaraguan Pitch Pine.

Question 2:- Complete this sentence with just one word. The word starts with a letter you find near letters q a s d and e. "If you go along the pier you can take a look at the new decking made from planks of ..…" = Wood

Question 3:- A pub name in Formby. = Pine Woods

Q4. What is the name of Southport Rugby League team? = Sandstormers

Q5. Where is the home ground? (Help… see sport links) = Hightown

Q6. Who are the Golden Girls? (Help…. TV on Sunday) = Southport Ladies Football Team

Question 7. A little known fact Southport's Lord Street ... Lord Street was constructed before the Emperor of France redesigned Paris in 1851, with the help of Baron Georges Haussmann. What town did Haussmann stay in that inspired his new vision? = Lord Street

Question 8. In the 19th Century, Southport was built up rapidly on coastal dunes. It was developed from a small fishing settlements. What metropolitan area is Southport now in? = Sefton (NOT MERSEYSIDE)

Question 9. What is the major port near Southport? = Liverpool Free Port (Expeted Liverpool)

Question 10. Who are SEDS? = Students for the Exploration and Development of Space