Southport District Scout Groups have held annual St George's Day Parade
Photograph by Patrick Trollope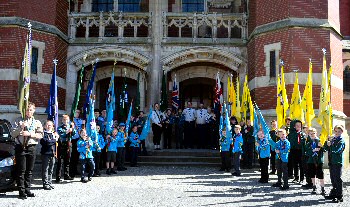 ON St George's Day, 23 April 2017, Scout Groups form Merseyside, Southport District have held their annual parade. Sadly this year due to costs and issues around not having a Police Escort, they could not have a band playing with them. This year's parade was bigger than many in recent years, due to the addition of some new Scout and Cub Groups within the District. The weather was perfect for them and all who took part were a credit to not only the Scout Association, but also the local area. This is the real face of the majority of our young people and not that of the few who have been dominating the headlines locally for last few years, for all the wrong reasons. This year the parade had the many Scouts, Cubs and Beavers walking from Waterside Lodge, on Marine Drive to Holy Trinity Church on Manchester Road under a blue sky. If you can help the Scouts with next year's St George's Day parade, by providing sponsorship, please contact the District via email and help them to keep this tradition going. Our video of the Parade can be found on our YouTube channel or by clicking on the player in our photographic coverage.
To see our photographic coverage click on here now.
Inspirational Sheila ready to take on It's a Knockout after giving cancer a beating!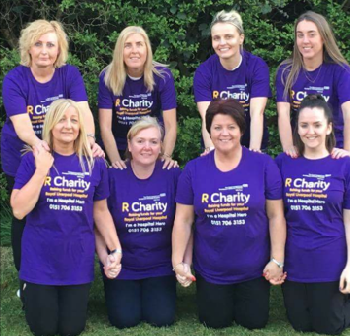 A Merseyside woman who has beaten cancer is taking on a knockout challenge, in a bid to help save the lives of others diagnosed with breast cancer on Merseyside. Former hairdresser Sheila Fairclough wants to raise funds for the Royal Liverpool University Hospital's R Charity to help other women receive treatment that will save lives in the new Royal. After years of treatment for a massive 10 centimetre tumour in her breast, the 52 year old from Old Swan admits the disease has given her a new outlook on life.

Sheila and 10 of her closest friends will take part in an inflatable obstacle course based on the hit TV show:- 'It's a Knockout' to raise money for the Breast Unit in the new Royal. Sheila said:- "I went for my first breast screening appointment just after my 50th Birthday. I'd spoken to my GP as I thought I should have been earlier, but screenings can go on until 53. I went along to my appointment not expecting anything and I couldn't feel a lump. I had a small section of skin on my boob that was slightly different; but I thought that was just wrinkles setting in. I had no history of breast cancer or any cancer in my family. But I was called back to a follow up appointment and I knew something was wrong."

Sheila underwent a surgery to remove the breast and after a long recovery started her chemotherapy treatment. She said:- "The chemo course I was put on was ruthless. It left me without eyelashes, fingernails and toenails, and I lost all my hair."

For most people, this would be a particularly distressing period, but Sheila also has Bell's palsy, a condition that affects the facial muscles and causes facial paralysis. Sheila said:- "I used my hair as a shield to cover up my condition so losing it was a big worry for me. But then I discovered wigs, so every day was a good hair day!"

During her treatment, Sheila didn't allow the cancer to affect her positive outlook. She now uses her experience as a drive to raise funds for local cancer charities on Merseyside. Shelia has raised money for the Breast Unit at Royal Liverpool University Hospital, Sunflowers and Cancer Research UK, through skydiving, tea and coffee afternoons and abseiling. The money sheila raises will provide patients in the new Royal's Breast Unit with the best treatment and comfort during their stay in Hospital. She said:- "Having cancer has taught me how to live. You have to keep going and keep doing things you want to do. I have 9 other people in my team of Warriors for It's a Knockout. The whole day is going to be a laugh with my best mates. It's more of a fun challenge and there should be something for everyone in there. If I can live through losing all my eyelashes and hair, I can get through anything!"

Sheila and her team of Warriors are taking part in R Charity's It's a Knockout, on Saturday, 6 May 2017, at Riverside Police Club.
Places for teams are still available by calling the R Charity Fundraising Office on:- 0151 706 3150. Individuals can also sign up to take part.
You can support Sheila and her team of Warriors by donating to their Just Giving Page.