The Champion of Champions British Musical Fireworks Championship 2017
Photographs by Patrick Trollope

LARGE Crowds attended 3 fantastic nights of pyrotechnic wizardry, on Southport's Victoria Park, as the popular British Musical Fireworks Championship took place over 29 November to 1 October 2017. The event had 7 spectacular displays that illuminated the sky above the seaside Town, that had been incredible timing to the musical accompaniments each team had chosen to synchronized their displays to fire to. This competition is now regarded as 1 of the top pyrotechnic displays in the UK and in Europe, and this years was even more special as it was a battle between past winners. At stake was the ultimate title, The Champion of Champions.
This title was to be awarded to Sirotechnics Fireworks, who performed 2nd on the Saturday evening slot, after impressing the judges, sealing them their place as Champion of Champions. Sunday's Bright Sparks Fireworks took 2nd Place and 3rd Place was awarded to All-Star Fireworks, who opened Saturday display.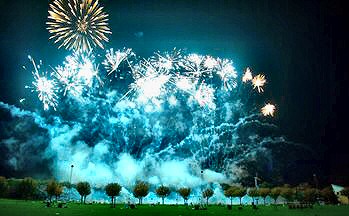 Cllr Marion Atkinson, Sefton Council's Labour Cabinet Member for Regeneration and Skills, said:- "The British Musical Fireworks Championship was yet again a fantastic weekend for Southport and Sefton. Thousands of families descended on Victoria Park to see the 2013 winners, Sirotechnics, take home the Champion of Champions trophy. Saturday was full to capacity proving what a draw the Fireworks and Southport really are. I would like to congratulate everybody involved in putting on this year's championship, which was a fitting and fantastic end to our 2017 Sefton events calendar. As the season draws to close once again, it is also important that we acknowledge the huge economic impact these fantastic events have on our borough."
The event also had another attraction that was new to the show. On all 3 nights, those attending got the chance to watch the Bring the Fire Project's performances. The group are a Liverpool based collective of fire dancers and they definitely warmed things up before the main displays took place.

Well done to all the teams and also to Sefton Council for yet again putting on this magical event.
We have to make a comment about an added extra that took place on Friday night, just before the 1st display took place. Did you see the pyrotechnic marriage proposal that was made to a lady called Sue? We are told accepted the offer and we wish them all the best for their wedding...
Please click on this link to see more of our photographs taken at this event. Plus we will have a few more in next weeks issue as well.