1st Storm of 2018 makes quite a splash



THE 1st storm of 2018, Storm Eleanor, brought a damp start to 2018 and very high tides, on 2 January 2018, we headed out to see the dangerous waves hitting our coastline. The larger waves had been coursed due to a combination of the storm and the effect of the super moon events, which create extreme higher and lower tides than normal. The result was spectacular on the seafront, at Southport.

As the storm lashed the UK, with violent storm force winds of up to 100mph in some place, leaving thousands of homes without power and hitting transport links, thankfully Merseyside was not as badly affected as other parts of the UK. But with more and more storms, comes more and more erosion of the sand dunes along our coastline, as well as more flooding of our rivers and streams. Should we expect to see more measures taken to defend the coastline and riverbanks from erosion in the future?

In 2018, please take note, if you want to take photographs of large waves bashing the Merseyside coast, or any coastline, remember, they can easily get you into danger. Keep a good distance away from them. Do not climbed over any safety barriers to get photographs as the large swells can suddenly crash over sea walls. Also it is worth noting that in some cases, the water pressure can cause sea walls and cliffs to collapse.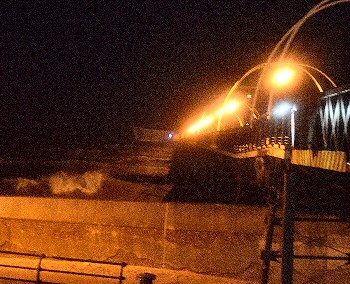 Did Storm Eleanor affect you? If yes, please let us know, via emailing us to:- News24@SouthportReporter.com