Clipper 05-06 Round the World Yacht Race Teams To Be Flown Home

ON 9 February 2006 it was announced that the Clipper 05-06 race had been halted due to keel problems. Clipper Ventures PLC whose fleet of boats are now currently berthed in Subic Bay in the Philippines after being diverted during Race 6 from Singapore to Qingdao issued a statement to crews at Subic Bay Yacht Club on Thursday morning. Clipper Race Chairman Sir Robin Knox-Johnston explained that the work on the ocean racing yachts is likely to take around a month and arrangements will be made for crews to travel home whilst keel problems are being assessed and repaired on its fleet of 10 Clipper 68s. Sir Robin said that once the remedial work has been completed, it is intended to continue the race as originally planned. Sir Robin told the media that:- "Crews will be only too aware of the problem that has affected the yachts. We believe that by the time the problem has been properly assessed and a solution decided upon, plus the remedial work carried out, the Clipper race will be delayed by as much as a month, although this is by necessity an approximate date."

Clipper Ventures said that it will arrange for crew to be either flown home for the duration of the delay, or receive the cost of such flights in lieu. Crew members that were due to leave the race in China will be flown to from Manila to Qingdao by Clipper to catch pre-booked flights. "We have taken this action swiftly to minimise disruption to crews. The Clipper crews are at the heart of the Clipper 05-06 Round the World Race, and we hope that this move to cover travel expenses demonstrates that they remain our priority as we endeavor to get them racing again as soon as possible.

This will mean delays to the original schedule, and the new schedules will be published once we have a firm date for the completion of the remedial work." Sir Robin said.

A team of experts are flying out from the UK to assess the damage and present a proposed timeframe for the repairs to be completed, and Clipper Ventures expects to have a clearer idea of when the fleet will depart the Philippines to continue the race by the latter part of this week.

JOB ADVERT...

Bricklayers and associated trades required to carry out specialist structural repairs to housing.

Driving licence essential.

Tel:- 01825 713000.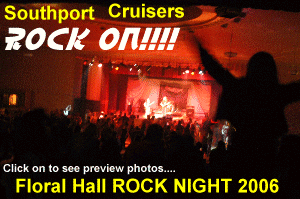 UK HEADING FOR WORST YEAR EVER FOR INSOLVENCIES
ATTEMPTED ABDUCTION, SUSSEX ROAD, SOUTHPORT
Searching for the Northwest business eco-champions
ROYAL VISIT FOR BEATLE JOHN LENNON SON'S SCHOOL
Hospital Trust is one of the safest
Vue Film Showing Times.
Sefton banks its share of more than £21,000
Are your taste buds tingling?
Dukes Bar Southport Art Centre Sign Language Sessions...
HOLLY'S HELPING HAND
Good citizens honoured
CYBERSPACE CAR BOOT SALE FOR CHARITY
Council addresses residents' requests
Ryanair New Routes Take Off
SINGING PAINTS A PICTURE
ROCK FM at Havana
A SAFE PLACE FOR CHILDREN … AND A NEW HOME FOR MARKET
JOIN THE RACE FOR LIFE
New guide to finding the right legal expert
DROP OUT TEENS HIT PARENTS' STRESS LEVELS
We love recycling - it's true!
Chris Tarrant is calling on local people to get involved in a Hug Quiz
Country's Best Choirs Sing To Win!
Bullying in the Workplace
Southport Hospital 10% cleaner than last year
Southport Floral HALL Rock Night Photo Preview
Peter Brown Craven Minor League
Gym'll fix it!
MPs urged to stub it out
Jamie Carragher and O2 help Merseyside Police to keep in touch
THOUSANDS OF VICTIMS OF BOGUS CALLER CRIME
Carers UK forefronts carers' rights with launch of national TV campaign
BITE VICTIM SAVED BY FAST ACTING POLICE OFFICERS
Setting the standards
FROM HEALTH TO WEALTH
Liverpool Central Library will be 1 in a million
THEFT FROM PERSON, SOUTHPORT
Heat 3... 'Fame' Search for A Star
THE SILENT KILLER
TV & INTERNET PIONEER TEACHERS' TV CELEBRATES 1st BIRTHDAY
~HAPPY BIRTHDAY~
He is a big 0 Years Old!!!
Chantal congratulations..!
Yes, a little boy called Callum was born on 3 February 06... weighing only 8lbs. 4oz...
From all the team at the Empire Theatre, Liverpool.... "Welcome to the theatre of life little Callum!"
If you have someone you want to say happy birthday to, for free,
then use the email address below to send us the names
you want us say happy birthday to, and/or a photograph.
Email us today at:- birthdays@southportreporter.com