The End of the Clipper 07/08 Race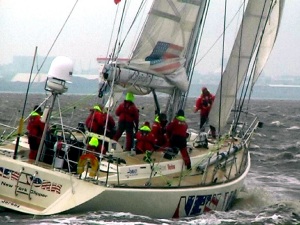 THE Clipper Challenge vessels returned to Liverpool, on Saturday, 5 July 2008, after an epic journey. The ten identically built clippers left Liverpool last September (2007), with their multinational crews comprising a mix of highly experienced crew and raw recruits, to complete a voyage in 6 legs, which would take them around the world. Most of the crew members, (total 17 per clipper), however, did a number of the legs only, so more people were able to share an unique experience.

Firstly to La Rochelle, then past the Canary Islands, progressing to Salvador de Bahia. Thence via the South Atlantic below the Cape of Good Hope to Durban. From Africa their adventures led them to Fremantle in Australia. Around these coasts waves may be encountered that are higher than buildings! Leg 4 was onwards to Singapore and then to Qingdao. Beyond China, they continued to the warmth of Hawaii and then to the West Coast of North America, Panama and Jamaica. Homeward bound, the last leg comprised 4 races, Jamaica to New York, then up to Halifax, Nova Scotia, back across the Atlantic to Cork and finally to Liverpool, where eager families and relatives awaited their arrival. Enthusiastic crowds witnessed their triumphal return to the Mersey and watched the separate race, the 08 Dash, from Crosby to the finishing line at the saluting base. This last race was won by the clipper, Nova Scotia.

Throughout, we experienced bewildering assortment of weather, from cloudy to bright sunshine and, as if specially ordered for dramatic effect; thunder, lightning and torrential rain, right at the crucial moment of the sail past. The crowds, which had flocked to welcome the crews back, remained stoically in position or returned very quickly to their places at the riverside once the deluge abated. Before the arrival of the boats, the senior orchestra of the Saturday Music School assembled and gallantly managed a few well executed pieces before the assembled dignitaries, until they were twice forced to flee, with their precious instruments, for cover from the lashing rain.

The gun salute was fired by gunners from 103 Regiment, Royal Artillery, based in Aigburth. They were ably assisted by young James Riley, from Formby. James had previously helped when the clippers departed last September, having been recruited in Alder Hey Children Hospital, whilst recuperating from having his appendix removed. Also present were his parents and younger brother, Sam. Amongst the dignitaries attending was the Mayor of Hull, Cllr. Elaine Gallano, who spoke of her delight that her city has been chosen as the next venue for the Clipper Challenge. The clipper named Hull and Humber had come second overall, in this year's race and she felt confident for next year. We wish them well as the next host.

The clippers were escorted in their sail past from upriver by tugboat, Brocklebank, Royal Naval vessels Royal Navy warships HMS Grimsby, HMS Puncher and HMS Blazer, Commodore John Madgwick, Naval Regional Commander for Northern England, said:- "The Round the World Yacht race is an important event in Liverpool's maritime calendar, so we where delighted to be able to support it in such a practical way." Also the Mersey ferries gave chase down the river, with one of the ferries even going out towards the Mersey Bar to greet them. In the Mersey where an assortment of yachts, pleasure craft and small boats, flanking the fleet as they made their way to the entrance to Canning half tide Dock.

Liverpool08 led them in, with the remaining rest in order of their final positions. They were greeted on entry, by a fanfare played by 4 trumpeters of the Duke of Lancaster's Regiment, resplendent in their red uniforms.

Winners overall were, first, New York, then Hull and Humber and third, Glasgow. Then came Nova Scotia, Liverpool, Qingdao, Durban, Singapore, Western Australia and Jamaica. The clippers remained in for a while allowing the crowds time to appreciate their details at close range, before entering the Albert Dock in reverse order. Each clipper circled the dock before taking their final mooring where they were presented with their trophies by the Mayor of Liverpool and his Mayoress,Cllr. Steve Rotheram.

The brother of a crew member commented that it must have cost something like £1 a mile to participate but the sailors themselves seem united in declaring the experience life changing and enhancing. Final comments from Sir Robin Knox Johnson, who has sailed single-handed around the world himself and has played a vital role in developing this challenge:- "This has been the best clipper race so far" (13 years since inception) and, with obvious delight at a successful mission, "just look at them (the crew members), all of them exuding confidence". Earlier, he had commented how soon individuals had to learn essential skills to enable them to work as a team as survival depends on it. A valuable lesson and one some businesses could well learn from. It was a grand day for us as spectators, but it is easy to appreciate the hard work that must be involved and the degree of dedication, even if we are not familiar with the demands and dangers and rewards of such a venture. There is a serious message...... ...continued...