David Cameron Visits Southport Market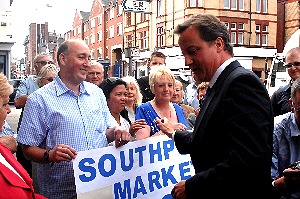 AS part of David Cameron's North West Tour of Marginal Constituencies, on Thursday, 14 August 2008, the Conservative Party Leader visited Southport to meet traders and customers at Southport market and to have lunch at the Scarisbrick Hotel. He was accompanied by Brenda Porter, prospective Conservative MP for Southport who is regarded by many as the one who helped save the indoor Market Hall on Market Street. After a fantastic welcome at the Scarisbrick Hotel, David Cameron MP, walked across Lord Street, flanked along the way by press and many local supporters. When he got to the Market Hall, he was once again warmly welcomed by many of customers and also the traders. One of the more unusual members of the welcoming party was a large dog, who welcomed David with a big lick on the face. Then he wandered into the hall, stopping to chat to store holders and also to buy goodies along the way. At one point he stopped off in the fruit and nut, pick and mix area and make a joke about being in it. The warm welcome was carried through with only one voice from a heckler, who was very quickly silenced by the people round him. "I myself, was impressed by how lively and friendly he was. He was joking and very enthusiastic, not missing a thing. He even spotted a young baby who was hidden away, leading him to make a very nice remark and a very good political comment. He was truly on the ball and not what I was expecting. He acted human with lots of personality" , one of the many store holders told me after the event. In the middle of the event David Cameron stopped off at one of the market's cafes for a cup of tea and let journalists ask questions. What was nice for Brenda Porter where glowing endorsements by the leader throughout the press interviews. When asked about the fantastic reception he received, he put it down to Brenda and quickly said:- "I think that is probably because Brenda has done so much to save the market. I think people are very pleased with the work she has done." He then went on to say:- "Markets are important for towns and I feel it is very good that the market has been saved." We put the question to him of how would he help small businesses, should the Conservative Party get in. He quickly responded with:- "I think the most important thing we can do is to help with the tax burden small businesses face. This government, I think, wrongly put up the small rate of corporation tax and we said we would put that back down again and pay for it by abolishing the reliefs and allowances they have introduced. I think that would be welcome by small businesses. I think that would be very helpful." When asked about gangs, in relation to the anniversary of Rhys Jones he said:- "I think we can do a lot more now and what I would say is look we need to hit this problem from every angle. You must have tough penalties, on carrying a gun and/or carrying a knife, you also have to make sure you get the police out onto our streets. Cut the paperwork, scrap sum of the restrictions about Stop and Search so they can actually get out there and search people and try and find the guns and knifes. And you also gotta' go back to where these problems are going wrong, at source. Why are so many young people joining gangs? Is that because there is so much family breakdown that there is a lack of father figures and authority figures in their lives, that there is not enough discipline in the schools? We have to get those things right in order to let family win over the gang culture." After the visit, Brenda Porter told us that:- "I think it went tremendously well. It went well because, people showed their feelings themselves. There was no pre script, or any thing like that. He met members and supporters at the Scarisbrick. Had a very nice lunch and did questions and it was a very, very enjoyable hour. We then walked up to the market, because it is more important people recognise people's businesses are here. Small businesses. Now the decision has been made to keep the market where it is, refurbish it, market it. It is vitally important to say where it is and encourage people from outside to come and visit. I just felt that this would give them a boost because they have gone through a hard time and the inside of the market, with empty stalls really tells the tail." and went on to say that:- "David Cameron came up and met with people, and literacy listened to them and they raised their concerns over when they thought they had lost their market, but it was not just about the refurbishment, they showed they are concerned about the economy as well. And he listened to them. He took on board what they said, and the feeling that, to me here, is that......." ...continued...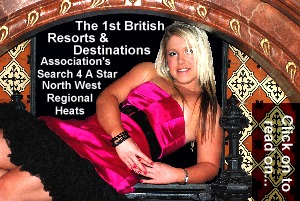 --- MORE NEWS REPORTS BELOW ---
ROBOTS TO PATROL THE STREETS IN FUTURE BRITAIN
David Cameron Visits Southport Market Photos
Top Care Workers To Be Honoured
WORLD FIREFIGHTERS GAMES 2008 ALREADY A SUCCESS!
Highways Agency lifts roadworks to ease Bank Holiday getaway for North West drivers
'Term Time says NO to Violence'
Letters to the Editor:-

"Birkdale County Sanatorium - Can any one help me?"
PEOPLE WASTE AN AVERAGE OF 2 TO 3 HOURS A DAY 'FAFFING'
MAG GIVES £40K TO BALLET
RISING FUEL COSTS drivE PEOPLE BACK TO PUBLIC TRANSPORT
24 YOUNG PEOPLE WIN PLACES ON THE NETWORK SCHEME AT EDINBURGH TV FESTIVAL
TV shout out for BBC3s Kill It Cook It Eat It
HUNT FOR NORTH WEST SINGLETONS IN 21ST CENTURY SHOT AT FINDING LOVE
Morgan Est. lowers tunnel boring machine in Aughton
Southport Lions donate £1,000 towards cancer equipment
SMEs missing out on internet advertising boom
Letters to the editor:- "Disabled at Southport Flower Show."
Southport Civic Society's Lord Street Trail's 12 Plaque
500 UP FOR MERSEYSIDE SAILING CHARITY
SING-ALONG TO MAMMA MIA! AT VUE CINEMAS NATIONWIDE
1 IN 5 TRADESMEN UNINSURED
Inflation-Beating Alternative to Supermarkets
Southport Lions donate £1,000 towards cancer equipment
ARMY LAUNCHES NEW FURTHER EDUCATION BURSARY TO MEET THE NEEDS OF BIRKENHEAD STUDENTS
Family Funday A Big Hit!
'Northerners Should Move South' Report Deemed Unbelievable, Unworkable and Unfair
Tribute to 2 football greats
Santa Claus is coming to town for cancer research
Headteachers place high value on teaching assistants
MOTORCYCLES and MOTOR SCOOTERS
DRINK LIKE THE STARS AT THE VINCENT HOTEL
Charity appeals for information on missing Bootle man
LOUNGING IN LIME STREET STATION
"Love me Love my dog" say canine crazy Brits
The First British Resorts and Destinations Association's Search for a Star - North West Regional Heats of 2008
JUST A FEW PLACES LEFT FOR CHARITY ABSEIL DOWN MERSEY TUNNEL SHAFT
The lads are back again playing, with a yet another new name
...continued... "......there is great excitement, they really felt that they had met somebody who knew what they where talking about. And I think, this is where his strength is atluly."
Click here to see more photographs of his visit.

If you have any views or opinions about this topic, please send us an email them to:- news24@southportreporter.com.
| | |
| --- | --- |
| | Click on here to see our video of David Cameron's North West tour of marginal constituencies, on Thursday, 14 August 2008 when he visited Southport Market. With intro by Brenda Porter, prospective Conservative MP for Southport. |
| | |
| --- | --- |
| | |