Grant Shapps In Town...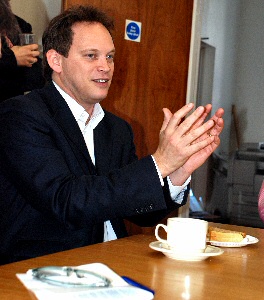 PROSPECTIVE Conservative MP Brenda Porter welcomed Grant Shapps, the Conservative Shadow Housing Minister to Southport to meet relevant people involved in planning, building and providing homes in the future for Southport residents. Grant Shapps who is also MP for Welwyn Hatfield has been Shadow Housing Minister since June 2007 and together with David Cameron launched the Conservative Homelessness Foundation in London in 2008. The Foundation will work with the Conservative Party to develop policies aimed at eradicating rough sleeping and addressing wider issues of homelessness.

While covering all the questions of concern to both local residents and planners Grant Shapps reiterated his opposition to building on the Green Belt in principle and very much advocated the involvement of local communities in decision making to meet the individual needs of their areas.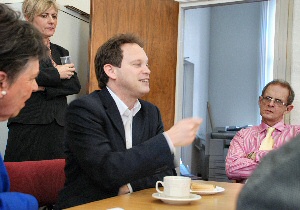 He raised and answered questions on the concerns of young people and the availability of housing for them, and the opportunity for them to get onto the property ladder if they so wished to do so. He stressed that a Conservative Government would help them which would include removing stamp duty for first time buyers. He stressed that planned housing should also financially benefit the area and that standards and design should automatically be of a high standard.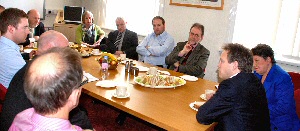 The diversity of Sefton was highlighted and that needs differed in some areas, this included Southport, and that those needs should be addressed accordingly and not dictated by Westminster.

Councillor Brenda Porter confirmed that it is her belief that "adequate and appropriate housing was essential to support both family life and a quality of life for everyone... and I looked forward to inviting the Shadow Minister for a further visit to tour the town so that he can meet local residents." She also added:- "Grant Shapps advised many years ago he had had a girlfriend who lived in the town, so had previously visited Southport. He told me that he is looking forward to making a further visit in the future and thanked everyone for taking the time and trouble to meet with him."
...HAPPY BIRTHDAY...
If you have someone you want to say happy birthday to, for free, then use the email address below to send us the names you want us say happy birthday to, and/or a photograph. Email us today!
BUSINESS FOR SALE

SOUTHPORT'S small, yet well known Shamrock Sandwich Shop on Hill Street, Southport (PR90NW) is now up for sale. The business has a good regular clientele, making it an ideal business opportunity. Call 01704 501 769 for more information.