Chancellor Alistair Darling's 2010 Budget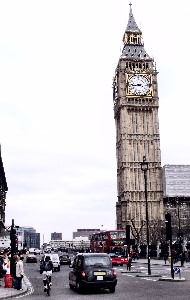 THIS is a key to winning or losing the general election, as Chancellor Alistair Darling's 2010 Budget became public we have to ask, will it help us or make us worse off? So is the 24 March 2010 Budget good or bad?

The Shop workers' union, Usdaw, welcomed this budget and said that it is "a budget to help get the economy moving and leave the recession well behind." with adding Usdaw General Secretary John Hannett "This budget revealed encouraging news on the economy and demonstrates that the recovery from the recession is well underway. There was better than expected news on Government borrowing and debt and coupled with the recent encouraging news regarding unemployment figures it demonstrated that the economy is in safe hands. The tough decisions taken over the last two years leaves us well placed to recover more quickly than we would have done if we had done nothing as the Tories wanted. This was a budget of a Government with the vision and drive to take the country forward and win a 4th term at the forthcoming General Election."

Yet this Chancellor Alistair Darling's 2010 Budget, which will be the last one before this year's election has already come under fire. Commenting on Budget, Michael Sale, President, Liverpool Society of Chartered Accountants, said:- "UK businesses have played their part in helping get the UK economy through the downturn, by maintaining employment and revenues. However, they also need certainty and confidence in the recovery. Whilst the focus on jobs and investment is important in the short term, businesses will want to know more about what they can expect in the medium to long term. They need greater clarity on how departmental spending is going to be cut and also if taxes are going to be raised. This will have a direct influence on their plans to invest and grow." CBI Director General Richard Lambert told the national media that:- "This in my view was a clever, political budget. However, anxiety remains on how the deficit is going to be paid down, and the growth forecasts for 2011 and beyond are still on the optimistic side."

The biggest blow to the public is that Mr Darling should have scrapped the fuel duty increase altogether with some like Plaid Cymru's leader at Westminster, Elfyn Clwyd, saying to the national media that:- "this unfair fuel tax and it is yet another example of an uncaring, out of touch government." Many people feel like the SNP that Mr Darling should have scrapped the fuel duty increase altogether. It has been seen as Labour saving face with the City rather than supporting the public. Yet others have commented that the 3p fuel duty rise being phased in over three stages, between April 2010 and January 2011, rather than in one increases in April, is better.

Anti drink campaign groups are also pleased as duty on cider is to rise by 10% above inflation, from midnight on Sunday, 28 March, 2010. Wine, beer and spirit duties too are going up by 2% from midnight on Sunday, 28 March 2010 and further 2% rise planned over the next two years. Also pleasing health campaign groups is the 1% Tobacco duty rise, which again will take place from midnight on Sunday, 28 March 2010. That is a 2% increase in real terms each year, until 2014.

For house hunters, it is also a slight win, with stamp duty scrapped for homes below £250,000 for first-time buyers, yet that is only for two years! Yet stamp duty on all residential property sales over £1m are to increase to 5% from April 2011. Commenting on this part of the budget announcement, RICS North West spokesperson, John Halman of Gascoigne Halman Residential Estate Agency said:- "Measures to help boost the housing market in the North West are welcome and will benefit a significant number of buyers, removing 50% of transactions from the stamp duty system. Based on our assumptions about activity, RICS estimates that raising the initial stamp duty threshold will cost the Government around £750 million. However, one of the biggest problems first time buyers face is access to mortgages because they are now facing higher interest rates and set up costs." Simon Rubinsohn, RICS chief economist then added:- "Recent surveys of RICS members have suggested that the number of transactions should increase through a cut in stamp duty at the lower end of the house price range. In particular, this change to stamp duty could help transactions rise above 1 million for the first time since 2007, although this is still well below the 1.7 million transactions that were taking place at the height of the market. Any impact on the market will be limited by the ongoing lack of housing supply and restricted mortgage lending. RICS believes that greater reform of stamp duty is still needed. The current slab structure, where a higher rate applies to the whole value of a transaction, should be replaced with a marginal system similar to income tax. This would smooth out distortions in the market and can be done on a revenue neutral basis. The Government should also consider reshaping the tax by introducing a new band for higher value properties."

It is mixed news again for small business, as Alistair Darling introduces a £2.5bn package to boost skills and innovation. Also businesses will be helped, according to Darling, by a 1 year business rate cut from October 2010, which he says will help 500,000 UK companies. Investment allowance for small firms will be doubled to £100,000 and a doubling relief on capital gains tax for entrepreneurs. Also added to the list that is aimed at pleasing the City is that there will be no change to capital gains tax rates.

For the older community, they should be pleased to hear that the Winter Fuel Allowance rates will be extended for further year.

Parents with young children, from 2012, will see a £4 rise in child tax credit.

Darling's 2010 Budget also boasts a guarantee to give everyone a basic bank account! That will mean up to a million more people will have access to bank accounts over the next five years. Yet in the banking report, they are also planning to ring in a new service to adjudicate credit disputes. Again aimed at businesses, RBS and Lloyds Bank Group will be told to provide £94bn in small business loans. Hidden within that is also the aim to bring in a back tax on bank transactions, but stress that it will "be on global basis".

With the economy having contracted 6% during the recession, thankfully some of the more controversial measures in the Budget may not make it into law before polling day, which could be just a few weeks away. But if the Labour Government is not re-elected, it could all change again. What do you, our readers think about the budget? Do you agree with the business groups who are broadly welcoming the measures aimed at boosting enterprise? Do you think we need to do more to lower our National Debt? Email us today to:- news24@southportreporter.com.
F.S.V. - Bringing Schools Together...
FORMBY School's Voices is a group of school council representatives from each Formby school, who meet to discuss issues that are relevant to young people, including the local community. On Wednesday, 21 April 2010, students, parents and local representatives, including the Mayor and Mayoress of Sefton will meet at Duke Street Park, Formby, at 8am to mark the first week of this initiative. Please show your support and pop over!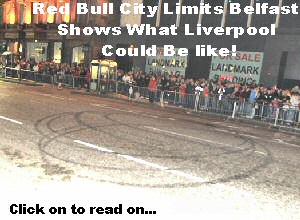 --- MORE NEWS REPORTS BELOW ---
British F3 & GT Championships kick off Oulton Park with Southport Rising Star Drive On The Grid!
Southport Arts Centre Is Closed, But The Show Goes On!
Old Formby Slide Show, 25 May, 2010
Southport communities to share in £4million
Red Bull City Limits Belfast Shows What Liverpool Could Be like!
THE OFFICE - LICENSE SUSPENSION
Give children the opportunity to learn outside of the classroom
Making a drama to prevent a crisis
BLACKBIRD TOPS MERSEYSIDE BIG SCHOOLS BIRDWATCH TABLE
Bionic Ear Show hears the Merseybeat in Liverpool
Air pollution warning system launched
Withdrawal of "Elgar" £20 note
Moving house could cost you your general election vote
BSIA supports new initiative to tackle underage drinking
400 years of Prescot Parish Church To Be Celebrated
Timpson in Merseyside help raise £2million for ChildLine
APPEAL TO TRACE TAXI DRIVER AFTER MAN FOUND SERIOUSLY INJURED
NEW SEASON FOR SOUTHPORT'S MODEL RAILWAY VILLAGE
Entries open for Merseyside's biggest bike ride
NEXT OF KIN APPEAL - JOHN SCANLAN
Forum urges Merseyside's councils to use LABGI funding to boost small business hardship relief
400 years of Prescot Parish Church to Be Celebrated
Bogus Microsoft Software Maintenance Department Caller
WWF's Earth Hour set to break all records
Only one in five small firms concerned about the Budget, survey finds
Game On For Arriva North West
TEAM EFFORT DELIVERS RIGHT RESULT
Rubber company's bumper boost
MAN CHARGED IN CONNECTION TO EXPLOSION IN STOCKBRIDGE VILLAGE
We've Made Liverpool Tours Personal!
The Riverside Steam & Vintage Vehicle Rally 2010 Is On It's Way
Ebonix Nights at Drakes
CHALLENGE YOURSELF AT THE MENSA IQ TEST SESSION IN LIVERPOOL
JLA to host world's first ever airport 'webinar'
Match Report - Knowsley v Lonestar
MERSEYSIDE TRANSPORT PARTNERSHIP REACHES OUT TO WIDER COMMUNITY
FOOD FOR THOUGHT - 'PHOTOGRAPHING CHILDREN'
Country Heroes to Help Army Benevolent Fund and Help For Heroes
Knowsley v Manhattan Panthers, Athletic & Phoenix
WHOSE ON MERSEYSIDE?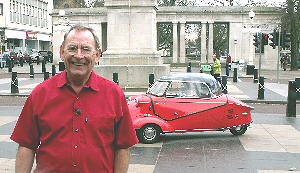 OK, not one of the very big names, but some of the shoppers on Southport's Lord Street on 18 March 2010 would have seen Fred Talbot, aka Fred the Weatherman, who is best known as ITV Granada Granada Reports was in town. Taking time out from filming and trying not to get to wet in the rain, he quickly let us take a picture... Thanks Fred!
GET OUR DAILY NEWS EMAIL

KEEP up-to-date with our daily news email service. We are slowly getting to the end of our Beta Test of our new news service on Formby-Reporter.com. So if you have not signed up, do so now. If you have already subscribed and not getting emails, remember to click on your confirmation email. So if you did not get one, email us today via:- news24@southportreporter.com and we will resend it to you!
BUSINESS FOR SALE

SOUTHPORT'S small, yet well known Shamrock Sandwich Shop on Hill Street, Southport (PR90NW) is now up for sale. The business has a good regular clientele, making it an ideal business opportunity. Call:- 01704 501 769 for more information.
| | | | |
| --- | --- | --- | --- |
| This weeks news in pictures | | | |
HAVE YOU USED OUR LIVE CHAT ROOM?



...HAPPY BIRTHDAY...
Happy Birthday to Mr Harrison from your loving daughter Jane. You are the best... xXx
If you have someone you want to say happy birthday to, for free, then use the email address below to send us the names you want us say happy birthday to, and/or a photograph. Email us today!