17 Year Old Girl Robbed On Balford Road, Southport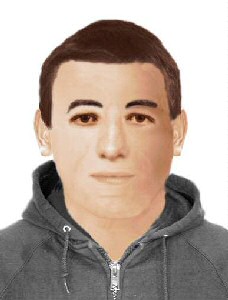 MERSEYSIDE Police have released an E-fit of a man they with to speak with in connection with theft from a woman in Southport.

On Thursday, 30 September 2010, a 17 year old woman was stood at a bus stop close to Balfour Road when she noticed a man stood close by. The man then pulled her handbag from her shoulder and ran off towards Southport town centre.

Det Constable Suzanne Demomme said:- "This was an unpleasant and distressing incident for the victim. I would appeal for anyone who has any information about this theft or who recognises the image of the offender to come forward. The image is a good likeness of the offender and we believe he may live locally."

Anyone with information can contact Sefton CID on:- 0151 777 3165 or Crimestoppers anonymously on:- 0800 555 111.
Russell Brand in Waterstone's Bold Street, Liverpool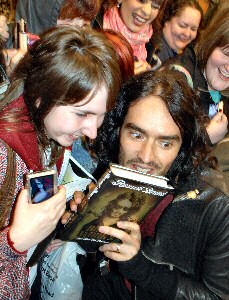 LIVERPOOL'S Bold Street branch of Waterstone's played host on Monday, 11 October 2010 to a book signing with Russell Brand . The controversial actor and TV presenter created a massive gathering of fans both in and out of the shop. So long was the queue of fans, for his book signing, that it ended nearly half way up the road, and in places it was 5 aside as well! Inside the former heroin addict and recovering alcoholic was clearly taken back by the hundreds of fans who descended on the shop. So big was the response of fans that it left the security nearly overwhelmed. Russell Brand's new autobiography, My Booky Wook 2, is out now priced £20.00. Click on here to see our full photographic coverage of this event.
UPDATE - "IS YOUR BUSINESS AFFECTED BY A RENT RELATED PROBLEM?"
IN the 30 September 2010 edition of our paper we reported that we had been encountering quite a few worried employees of businesses that are located in buildings that had been owned by Ethel Austin Ltd. We can now reveal that talks are now underway and that is why we have not published any more about it. We will keep our readers up-to-date if we have any more developments. Thank you to all those who contacted us and good luck to those affected.

...HAPPY BIRTHDAY...
If you have someone you want to say happy birthday to, for free, then use the email address below to send us the names you want us say happy birthday to, and/or a photograph. Email us today!

KEEP up-to-date with our daily news email service. Sign up to our FREE daily Email News Service (ENS) on Formby-Reporter.com. So if you do subscribed you can keep in up-to-date with what's going on. It is free and we do not send out massive amounts of emails. Also your email is kept under the UK's Data Protection Act, so you can be sure that you will not have problems.