Mini Shopaholic Book Signing and Talk...
Photograph and report by Patrick Trollope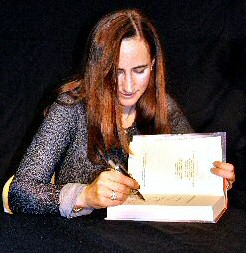 THE author of 'Shopaholic' popped into a packed out Formby Pool complex for the Prichard Bookshop's Book Signing and Talk. The focus was on the new copy of the book called 'Mini Shopaholic' that has a special cover on for Christmas 2010.
The event on Wednesday, 24 November 2010, was so popular that extra space had to be found to accommodate the many fans who had turned out to see the New York Times Best Seller listed author Madeleine Wickham, who is best known as her pen name Sophie Kinsella. Large queues steadily built up outside, despite the cold, as fans wait to get signed books.
Dressed in a very fashionable outfit, Madeleine looked stunning as she arrived. Sadly we never found out the designer's name, but we are shore we will find out. This was one of the many stops on her tour and to see what she did, it is hard to see how she gets the energy. Madeleine suppressed all the fans attending by being extremely open with her answers thrown at her, by a captivated audience. Her insight into the world of a famous author and her stories about how she came up with some of the Becky Bloomwood many misadventures brought many smiles to the room. It was fascinating to hear Madeleine's real life adventures, as she researched her many books. That background gave her book extract reading, from her book 'Mini Shopaholic', add feeling and depth to the financial journalist's world. This was one of the most entertaining and interesting book events we have been to in years, and we have been to countless signings. If you missed it and can get to one of her other signings, don't delay... go! If she delivers like she did at this signing, you will be in for a treat. We wish Madeleine the best of luck with Mini Shopaholic and we look forward to the next instalment!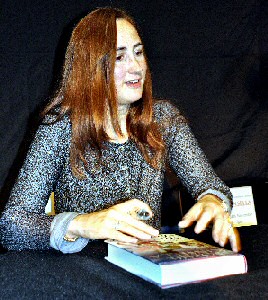 We would recommend this book to both sexes, even though it is not a book that men might automatically think of reading. It is both colourful in its humour, but a very cleaver insight into how our society deals with money. We will be adding her books to the Mersey Reporter online section in the next few days. Also do not forget to go into Prichards Bookshop in Formby Village to get copies as well as taking a look at many other fantastic books... As Becky Bloomwood would say:- "They offer fantastic deals, so I am going!"

...HAPPY BIRTHDAY...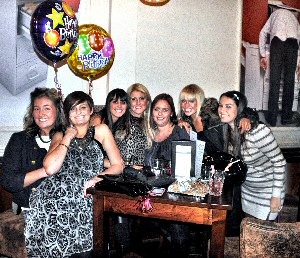 FROM ALL OF YOUR MATES!
| | | | |
| --- | --- | --- | --- |
| This week's news in pictures | | | |