Gastronomical Delights at Southport Food and Drink Festival 2014
Photographs by Patrick Trollope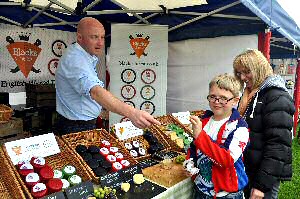 THIS year's Southport Food and Drink Festival was truly a gastronomical success with it returning to Victoria Park with many culinary delights on offer. The event took place over 30 May to 1 June 2014, with live cooking demonstrations to an abundance of stalls offering everything from Scouse to Crocodile burgers. Friday was slow starting, but it soon took off, but on Saturday, the sun brought out the crowds and then some, as the field was buzzing. May traders had to go home as a result to restock or even ran out and a few could not open on the Sunday as a result! But for those attending on the Sunday, even though a few stalls did struggle to keep up with demand, the woks and pans kept cooking for many of the stalls, and the aromas wafting in the air made you want to try it all. When you where not taking samples, you found yourself watching the entertainment, from bands to dancers within the central marquee, with audio provided by Toucan Events Ltd. and the compeer, local TV and Radio personality Neil Newton. "The girls from Sefton Tourism and Events who put this event on have done an amazing job of building it up over the last few years. This was one of the best shows we have been at. They have been so helpful and friendly as well. They are fantastic ambassadors for the area." said one of the stall holders to us on the last day. This statement was echoed time after time again, from nearly all the stall holders. The only complaint we had of any merit was the lack of signage for the toilets. If this event continues to grow and is held next year, all of us at Southport Reporter are looking forward to seeing what will be on offer... But for now, please click on this link to see some of the photographs we took over the 3 days... Also please do email your views about this event to::- news24@southportreporter.com.
MANANNAN TO OPERATE ON REDUCED POWER AFTER DAMAGE CAUSED BY FISHING GEAR
MANANNAN will be operating on slightly reduced power for the remainder of the TT period after ingesting discarded fishing gear which has damaged a shaft bearing on 1 of her 4 engines. With the damaged engine operating at reduced power, there may be some slight delays to departure/arrival times as a result of longer crossing times. Chief Executive Mark Woodward explained:- "Divers from the Department of Infrastructure have inspected the vessel and found and removed fishing gear which became entangled around one of the vessel's impellors. The jet duct is scored, but thankfully does not appear to be badly damaged. This has happened on previous occasions, and we have campaigned long and hard about the risks to scheduled services from fishing gear discarded in Manx waters."

Mr. Woodward said:- "The practical consequences are that Manannan will operate at a slower speed for the remainder of the TT period until the damaged engine can be repaired. It may also be necessary to reschedule some sailings after the TT period to allow a permanent repair to be effected. We will advise passengers of any changes necessary to schedules as soon as we are able. With virtually no slack in her TT schedule, there is little alternative and the result is that there may be some delays to passage times and departure timings until the damage can be repaired after TT."

Steam Packet Company engineers are closely monitoring the issue. To mitigate delays, the Company is drafting in additional resources where available to improve turnaround times and will also roster crews to start earlier each day.
B.O.A. 70th Anniversary DVD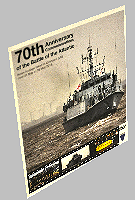 THE video footage we have taken at the 70th BOA events this year in Liverpool has now been fully edited is available to buy, on a DVD, from our Online Shop, on Mersey Reporter very soon. For each DVD sold, £3.00 will go to the Liverpool's Lord Mayor's Charity Appeal. (Registered Charity No. 229539) At this stage we can only do UK postage options, but if you are outside the UK, you can still order copies, but only via emailing us:- news24@merseyreporter.com with your FULL address and we will get back to you with a postage cost and a payment link, should you wish to continue.

KEEP up-2-d

ate




with our free daily news emails.



Are you subscribed? Si

g

n

u

p

today

to

our daily email news service via... Formb

y

-

Re

p

orter

.com



If you subscribed you can keep in up-to-date with what's going on in and around Merseyside. It is free and we do not send out massive amounts of emails. Your email is kept under the UK's Data Protection Act, so you can be sure that you will not have problems.
...HAPPY BIRTHDAY...

Ed Trollope - Happy Birthday from all the family. We hope you had a fantastic day!
Brian Appleton, Happy Birthday from all of us at SJA Southport!
Steven Scholes - Happy Birthday from all of us at SJA Southport and also from West Midlands Ambulance Service

If you have someone you want to say happy birthday to, for free, then use the email address below to send us the names you want us say happy birthday to, and/or a photograph. Email us today!