People flock to Easter Drama in Formby success
Report by Dympna Edwards & photos by Patrick Trollope.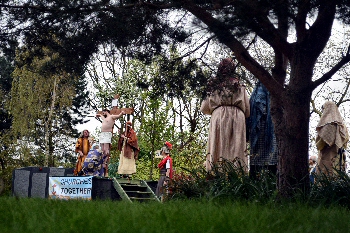 WELL over 500 people braved the cold and threatened rain to take part in Formby Good Friday Walk of Witness and Passion Play that took place on 14 April 2017. The annual walk of witness started in Chapel Lane, with people walking and singing as they made their way to Formby Pool Gardens.

Rev Sue Thomas from Holy Trinity led the prayer and gave a thought provoking homily about the meaning of the Easter story for each 1 of us in our lives.

The Passion Play which told the story of the last supper went through the arrest, trial, passion and finally Jesus resurrection from the perspective of the apostle Peter. The cast was made up of volunteers from local Churches. Peter Murphy, from Our Lady's Church, portrayed an engaging and forgiving Jesus. Mark and Tim Hogben, from Formby Elim Church, as the apostles Peter and Judas showed different responses to making wrong decisions and accepting forgiveness and Ted Woods, from St Peters, played the role of doubting Thomas.

The mayor Cllr Ian Brodie Brown attended the event. John Ryan, chairman of Churches Together in Formby Altcar and High Town (CTIFAH) said:- "The Good Friday event takes the story of Easter beyond our Church buildings into our local community. The music and drama helped to bring the story alive and add meaning."

Thankfully, the rain held off and many people stayed on to enjoyed tea, coffee and Hot Cross Buns provided by volunteers at Formby Pool and Holy Trinity Workshop. The refreshments raised ₤288.37 in donations for Famine Relief in Africa.

Dympna Edwards from Churches Together and Formby Pool Trust who helped organise the event said:- "This event wouldn't have happened without the time, energy and dedication of many people from across Formby. We thank everyone who took part from the stage crew, St John Ambulance, stewards, actors, sound crew, the volunteers at Formby Pool and Holy Trinity and to everyone who came and took part. Particular thanks are due to Rev Sue Thomas for her inspirational address which she shared with us."

Click here to see our full photographic coverage of this annual free community event.

More photos can be found on Our Lady of Compassion RC Church Formby's website taken by Mark Edwards.
Springtime Coffee Afternoon

A charity "coffee afternoon" will be held on Thursday, 20 April 2017, from 1pm to 4pm, in St Luke's Church Meeting Room (adjacent to St Luke's Church), St Luke's Church Road, Formby, Merseyside.
The proceeds are going to Clatterbridge Cancer Charity. Many people will recognise the important contribution Clatterbridge makes to the lives of cancer patients and their families in this area and beyond.
This charity affords them that extra care at traumatic times and supports the ongoing frontline research.

The entrance fee to the event is ₤2, which includes light refreshments. Other activities will be included amongst which will be a raffle and cake stalls. We will be pleased to receive any donations towards these events. Please do come and support us and hopefully have an enjoyable experience too. Incidentally, there is a regular circular bus service, called the 'F3', which passes St Luke's Church. This service leaves Formby Village Centre, at the Sumner Road Bus Stop, located behind Formby's Iceland, at 35 minutes past the hour and it passes over the Formby Station Railway Bridge, on it was to the Church.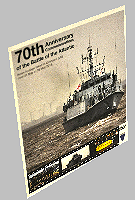 THE 70th BOA events this year in Liverpool has now been fully edited is available to buy, on a DVD, from our Online Shop, on Mersey Reporter very soon. For each DVD sold, ₤3.00 will go to Unique opera exhibition hits the right note at Central Library the Liverpool's Lord Mayor's Charity Appeal. (Registered Charity No. 229539) At this stage we can only do UK postage options, but if you are outside the UK, you can still order copies, but only via emailing our newsroom at:- news24@merseyreporter.com with your FULL address and we will get back to you with a postage cost and a payment link, should you wish to continue.