The Last Hurrah for Hare Coursing?
Photograph by IFAW-John Wright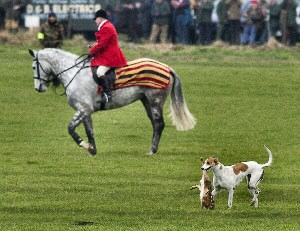 ST VALENTINE'S Day will see the start of the Waterloo Cup, the 3 day hare coursing event held at Great Altcar, Lancashire. The event has been brought forward to escape the hunting ban, due to come into force on February 18.
According to the anti hunting groups, hares are 'beaten' from miles around into an arena at Altcar and set upon by two dogs. The hare runs for its life and, if caught, may be ripped apart. The dogs are bred for their speed and stamina and are awarded points for the skill they show in 'turning' the hare, but it is the 'kill' that generates the most cheers from the crowd.
Phyllis Campbell-McRae, UK Director of IFAW (International Fund for Animal Welfare) will be chairing a press conference to be held in Liverpool on Monday 14 and comments:- "Most people celebrate St Valentine 's Day with hearts and flowers but hare coursers do it by cheering at the screams of dying animals - we can only be thankful that this is their last hurrah."
Email us and tell us what you think about the event:- news24@southportreporter.com If you do not want you name released please state that fact on the email. We look forward to your emails, expressing either view point.
www.LiverpoolReporter.com Service Upgrade
LIVERPOOL Reporter is being updated in advance of our live and recorded web TV broadcasting that will be activated fully later this year. If you have been trying to get the live feed from our radio and you cannot log on, it is because we must restrict the amount of people who can tune over the next few days. This restriction will only be imposed over the next few days to allow us to update quicker.
The TV broadcast will be made part of the radio stream later this year. So soon you will see band video as well as having the normal web radio. We are also adding history programs and event programs to the show lists. Examples can be seen by logging on to the web TV section of Liverpool Reporter.
Thank you, if you are one of the many people who tune in daily and we hope you continue to do so.
The service will be far better and allow you to access to far more information on the artists who are playing. Many of you have already experienced our test run of interactive features, when you have been on the radio player.
We are also looking at linking up the live web cams that we are installing around Merseyside. More on that later this year.
If you have a band or a event you want covered by our web TV crew or our web radio station, let us know by emailing us at:- new24@southportreporter.com
The upgrade will not affect any other services provided by PCBT Photography.
~HAPPY BIRTHDAY~

Happy Birthday Colin with love from Ed & Linda.

IF you have some one you want to say happy birthday to for free,

then use this email address

& send the names

to us by emailing us to:-

birthdays@southportreporter.com

IF YOU HAVE AN EVENT, OR ANY NEWS THEN....

TODAY!

UK office hours only, calls maybe recorded.