The Latest… Official Miss England 2006 & Mr England 2006 Regional
Competition Miss Southport 2006 & Mr Southport 2006

THE contest held an application night at the Letter Box Cocktail Bar and Saffron Lounge in Post Office Ave on Saturday 4 March 2006. So far there has been a very good take up, but we do need more male models to enter. So, if you think you have what it takes to strut your stuff on the catwalk, get in contact ASAP. You still have time. Also the same goes for all you young ladies out there. Because of the bad weather conditions which interfered with Saturday's event, we are looking at

holding another application night, but in the mean time please contact Bedazzled Model Agency on 0151 708 81 81 or email them at:- janeseasman@hotmail.co.uk If you want to pick up an application form, then pop into Amber Fashion Ltd, on London St. Southport or you can call into our offices on Post Office Ave. Southport. The contest is targeted at young females and males aged 17 to 24 years living in England. All contestants must hold a valid British passport, there are no geographical limits on where girls can be from, if a girl from London wanted to travel up and compete, that's fine. Contestants must not be married! For more information please visit:- www.misssouthport.com. We can now let you know that the final will be held on the 29 April 2006, at Havana Night Club, Southport and that Amber Fashion on London Street will be the official clothing
providers for the night. We still need sports clothing, so if you own a sports shop, contact PCBT Photography on 0161 408 4513 with your full details. We will give more details very soon…

Fact file:- The winner of Miss England in 2000, was Michelle Walker from Liverpool?

JOB ADVERT...

Bricklayers and associated trades required to carry out specialist structural repairs to housing.

Driving licence essential.

Tel:- 01825 713000.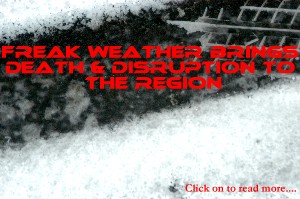 Health mates to get kids fit
L
iverpool Historic Pier-iod Piece Sinks…
Freak Weather Brings Death & Disruption To The Region
Competition time!

AA "Patrolman Pete"

Giveaway... Week ONE!
Vue Film Showing Times.
'To Kill a Mockingbird' tops librarian poll
World class support for smokers on No Smoking Day
Liverpool Reporter CD Reviews… 'Jill Fielding Band' & band 'Shmoo'
Gallimaufry Barn Dance
Southport Rock Night at the Floral Hall
Sefton Businesses get Networking
Texts appeal, but are you risking your health?
All systems go for Olympic pool
CHILDREN DIG UP SCHOOL GROUNDS
STANDARDS FOR FOOD OTHER THAN LUNCH IN SCHOOLS
Life in the Fast Lane
Awards at St John Ambulance HQ. Southport
Peter Brown Craven Minor League
Usdaw's Women and Work Commissioner welcomes gender pay gap report
Battle Of The Bands – FINAL At Casablanca, Southport
Liverpool ad agency to CREATE national 08 campaign
CONSTRUCTION FOR MERSEYSIDE ABOUT TO GO LIVE
Dog training - it could save your dog's life says PDSA
Safe Maintenance Tips for Homeowners from NHBC
Claire Lomax is set for National Karaoke Grand Final!
Major renewals for Merseyrail network
LOCAL SCHOOL MAKES OLD BAILEY APPEARANCE
RNID TYPETALK URGES MPS TO LISTEN TO DEAF VOTERS
Politicians top of the flops in latest poll
FORESTERS PLANT 300,000 NEW TREES
New survey highlights scale of NHS deficits in north-west
Young people in the North denounce anti-social behaviour
Old Swan turns over new leaf
AOFT STOPS MISLEADING PREMIUM RATE SCRATCHCARD PROMOTION
Top of the class!
LEONARD CHESHIRE EXPANDS VOLUNTEER ACTIVITY
Have your say - which is the best National Lottery funded project in the North West?
WORK STARTS ON EVERTON ECO HOMES
TAX HIKES THE FINAL INSULT TO FIRST TIMERS
Rib-tickling lunch at Town Hall
Somerfield group announcement
BUS COMPANY CALLS FOR TOP TALES
Liverpool congestion charge would be commercial suicide
MERSEYSIDE POLICE ASK FOR HELP... FATAL RTC IN SOUTHPORT
Retail Searches Top Internet Time
England Team Help Tackle Male Cancer
V Festival 2006 is a Sell out Already
~HAPPY BIRTHDAY~
If you have someone you want to say happy birthday to, for free,
then use the email address below to send us the names
you want us say happy birthday to, and/or a photograph.
Email us today at:- birthdays@southportreporter.com