Meet Liverpool's very own Miss Hawaiian Tropical Great Britain 2006 at a stunning Fashion Show!
Photograph by Richard Jennings of Cetra Gallery & Studio www.cetra.co.uk



YES you can meet Miss Hawaiian Tropical Great Britain at the Liner Hotel, former Gladstone Liverpool on Saturday 1 April 2006 at 8pm. The stunning showcase will have loads of fab designer collections, all modeled by stunning male and female models. That is not forgetting local Liverpool Girl Band Diverse, who have just completed a radio city school tour and about to release their album into shops all over the UK! To keep the night rolling on, MD Productions amazing dances choreographed by Miquel him self who has even toured and performed with Michael Jackson! The evening is being put on to help raise the large amount of cash needed to help Liverpool's nineteen year old Natalie Daley to raise the funds for the clothes she will have to have to represent Great Britain in the Hawaiian Tropic International finals at the Treasure Island Resort Casino in Las Vegas, Nevada 13 April to 18 April 2006. Any help with financing the trip all will be most welcomed by Natalie, who is willing to help anyone who helps her for fill her dream. The night starts at 7.30pm.

Entry cost is just £5.00 pay on door you will never get a night like it for £5.00 again…

The night is being run by Natalie's promoters Bedazzled Model Agency, who are also the organizers of the Miss Southport, that is being officially backed by ourselves.

Warning... Boa Constrictor stolen!

MERSYSIDE Police are warning members of the public to be careful following the theft of an eight foot boa constrictor overnight Wednesday, 22 March 2006, into Thursday 23 March 2006.

Thieves broke into the Arts Aquatics and Animals shop on Field Lane, Fazakerley, and stole the female Boa Constrictor, which is described as brown and orange and weighs 15 to 16lb.

The stolen reptile is a breeding female and it is believed that because she has been disturbed from her home environment she may be agitated. If she is not kept and fed properly she may become aggressive.

Anyone who knows where the snake is, or who has any information which could help the police with their inquiries can call officers at Kirkby Police Station on 0151 777 6530, or Crimestoppers on 0800 555 111.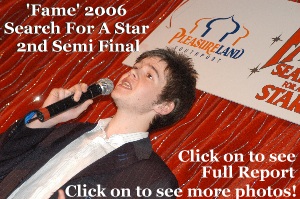 Haydock Park Racecourse 'Easter Saturday' competition...
Liverpool 8 Anti-Gun Crime Initiative
Appeal for Easter blood donors
ASSAULT- NEVILL, STREET, SOUTHPORT
PENS AT THE READY – AWARD FOR BUDDING YOUNG WRITERS
New Dispatches programme seeks transport horror stories
LIVERPOOL CHOIR TRIUMPHS IN FIRST ROUND OF BBC RADIO 3 COMPETITION
Vue Film Showing Times.
CALLING ALL MALES. CALLING ALL MALES. WE ARE SERIOUS... SOUTHPORT NEEDS YOU!
NSPCC and ELC team up to distribute "Your Family" magazine
Busy young Britons find themselves in bother
Peter Brown Craven Minor League
European Space Camp In The Land Of The Midnight Sun
15% OF LAW FIRMS COULD DISAPPEAR IN THE NEXT 18 MONTHS
CLIPPER 05-06 RACE IS BACK ON WITH LIVERPOOL 08 IN THE LEAD
SPAGHETTI TREES VOTED THE GREATEST APRIL FOOL OF ALL TIME
Cancer services should be an example to all
RAF's St Margaret CE High School Team are through to footie finals!
MERSEYSIDE TEENAGERS OFFERED FREE TICKETS FOR MUSIC AWARDS
WHITE BRITISH MEN SLOW TO SEEK MEDICAL HELP
DOCTOR, DOCTOR PLEASE CAN YOU CHECK ME OUT?
FROM RIVER TO DRY LAND
BRITISH SUMMER TIME PUTS SAFETY FEARS TO REST
Don't Let the Bed Bugs Bite
Trust offers new treatment for varicose veins
THIEVES REPEATEDLY TARGET ANIMAL CHARITY
Call for courtesy as pregnancy stress levels soar
'Fame' 2006 Search For A Star 2nd Semi Final
NATASHA HAMILTON LAUNCHES 'SPECIAL CUDDLES FOR SPECIAL CARE BABIES' CAMPAIGN
MONEY WORRIES CAUSE TWO MILLION BRITS TO LOSE SEX DRIVE
ONLINE SHOPPING WITH THE NORTH WEST AIR AMBULANCE
'Breaking up is NOT hard to do'
Unison members set to lobby Phil Woolas office
WHISKAS® SEARCHES FOR LIVERPOOL'S PURRFECT PURRETRY!
ORSON
FORGET FLOWERS, MUMS PREFER TO HEAR YOUR VOICE ON MOTHER'S DAY
Arena Residents Help Special Care Babies
BT targets heavy broadband users
DEATH OF THE SURFER … BIRTH OF THE SUPERSITE
HELP THE AGED LAUNCHES THE 'HUG' CREDIT CARD
FRAKTURED SOUND IN LIVERPOOL
DEAR EDITOR:- "Corruption allegations."
Fans on Merseyside reveal their Make or Break football moments
THE UK'S ARMY OF 2.3 MILLION UNPAID CARERS
Usdaw warmly welcomes rise in minimum wage
ABSOLUTELY ANIMAL EXHIBITION
Child's play in the playground
BIG ART FOR LITTLE ARTISTS
Funny Photo of the week...
Young people at Bebington High Sports College are Living For Sport
Fear of failure and suspicion
A LOAD OF OLD PANTS SAYS LIVERPOOL
Blind gardeners to benefit from new national club
~HAPPY BIRTHDAY~
If you have someone you want to say happy birthday to, for free,
then use the email address below to send us the names
you want us say happy birthday to, and/or a photograph.