Mersey Tunnel tours are a big hit!
Report and photo with thanks to Mersey Travel

SIGHTSEEING tours of the Mersey Tunnels are being doubled to cope with public demand.

The tours, launched only six months ago, are proving so popular that additional guides have been recruited and the tours extended to four times a week.

The number of participants on each tour has also been increased from 15 to 22 people.

Councillor Mark Dowd, Chair of Merseytravel, said:- "The tours, which tell of the history and inner workings of the tunnels, have really captured the public imagination. They are a fantastic success."

Neil Scales, Chief Executive and Director General of Merseytravel added:- "The tunnels are a great feat of engineering and the tours were designed to give people an idea of what happens behind the scenes.

It is a fascinating story and it is gratifying that so many people have responded to our invitation to come along and see for themselves.

The feedback has been tremendous, extremely positive, and these tours are now establishing themselves as a popular tourist attraction.

We've increased the number of tours and guides by popular demand."

The tours include a visit to the newly constructed escape refuges deep under the Mersey and unique access to the Engineering Control Room. Visitors also see one of the six giant ventilation stations in action.

The tours, which last between two and two and a half hours, are now held on Tuesday, Wednesday and Thursday evenings and on Saturday mornings.

To book a place telephone (Monday to Friday, between office hours) 0151 236 8602 and then dial extension number 206.

A small fee of £3 per person is charged to ensure the costs of the tours are self-funding.

Casual clothing and comfortable shoes must be worn and the minimum age for visitors is 16 years old.

Due to the number of stairs the tour is unsuitable for people with breathing or walking difficulties.

Our new online shop goes fully live this week!

THIS week we have opened our new online shop. We will be adding lots of things from computer programs to postcards for you to buy. Also coming soon will be a food section... So keep your eyes out for yet more changes and new pages! If you want to visit our online shop page Click here!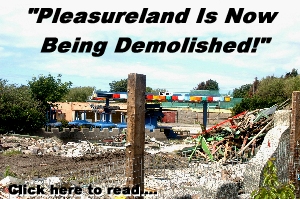 --- MORE NEWS REPORTS BELOW ---
Shaun In Southport!
GENESIS PERFORMING 'LARGER THAN LIVE' AT YOUR LOCAL VUE CINEMA
Felix Da Housecat / One+One / MTV Dance
Respect success in Liverpool
Vue
Film Showing
Times
Samaritans Trains Frontline Staff in Understanding Self-Harm
1st new units roll on City Line
Letters to the Editor:- "A HUGE THANK YOU - Southport Weekender 40th Birthday!"
Patsy Palmer supports new 5 A DAY campaign
New exhibitions make waves at the Albert Dock
"The Accidental Vegetarians"
It's Back! The Southport International Jazz Festival
Student artists take over Liverpool's historic Albert Dock
Home Buyers Search Out A Bargain
New York, New York service takes off from JLA
Feeling hot, hot, hot…
FREE KITS AT NEW 6-A-SIDE LEAGUE
NUMBER 1 CLASSIC FM COMPOSER PLAYS LIVERPOOL
Bad breath a stinking problem for couples and colleagues
Letters To Editor:- "Pleasureland Is Being Demolished?"
Shop for Jobs Scheme Launched
ARRIVA going for gold in hunt for future stars
Usdaw 'delighted' as iconic Lewis's store in Liverpool is saved
EPILEPSY AWARENESS EVENTS IN LIVERPOOL
Literature and Life
Transport Minister reaches for the stars!
WORK begins next week on a four phase £2m package of improvements to James Street which will
IMAGINE APPEAL RECEIVES DONATION WITH STYLE!
Heads up! Look out for this years - Brouhaha International Street Festival...
The Ship & Anchor Closed
COLOUR BLIND
Liverpool Lighthouse; the UK's first dedicated Urban Gospel Arts Centre
ROCKIN' ON HEAVEN'S DOOR
~HAPPY BIRTHDAY~
If you have someone you want to say happy birthday to, for free,
then use the email address below to send us the names
you want us say happy birthday to, and/or a photograph.
Email us today!