Fantastic Night at the Liverpool Urban Hair Show 2013
Photographs by Patrick Trollope.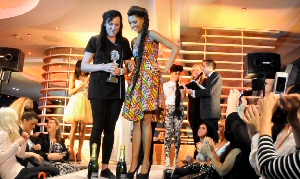 ON 4 July 2013, it was not just the weather that was warm, but it was also hot on the catwalk at Liverpool's 1st Liverpool Urban Hair Show. This event was the brain child of Claire Namukolo Seddon, who is studying Events Management at Liverpool Community College. Claire told us that she has always been interested in fashion and wanted to put her newly learned skills to the test, in style. Considering that this was not a professional show and was aimed at raising funds for the Liverpool One Foundation Charity, this would give many of the so called professional shows a run for their money. The models and guests not only had the fantastic surrounding of the casino to enjoy, but also, as was the catwalk, placed in the bar area, overlooking the Queens Dock, Liverpool so gave the models a fantastic backdrop to show off both their clothes and their hair styles. The models, hair had been styled by local hair dressing students from the Wirral Metropolitan College, giving them a way to further their skills and experience in practical working environments. Also, they got the chance to be the first to get their hands on the title of LUHS Stylist of the year 2013. Clothes were provided by Jasmin Kevin Hilton t-shirts, and Jasmin T-Sh!t with designs by Clarke, 18 forever and Sine Mission Kevin Hilton. Entertainment was provided throughout the night, between the catwalk shows, with performances by local talents from Society Girls, Tres, and Beauty to Little and Often. It was funny to see the shocked faces of some of the males when the Burlesque Society Girls show took to the catwalk! The atmosphere was fantastic and very friendly. MC Miles Dixon, who is the Casino's head of PR said:- "This was a very successful night for all of us and I think all who attended it really enjoyed it. I am glad Claire came to us to put this event on." Also Liverpool Foundation Charity representative - Cath Risebrough echoed this saying:- "We would like to thank all of the audience and also those putting on this fantastic event for helping us to raise funds for our charity. This is a fantastic night and we have fully enjoyed the activities and shows on offer."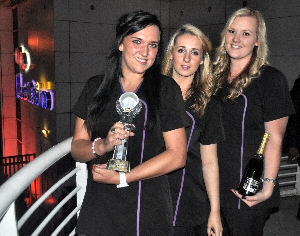 So will this return in 2014? We hope so and we also hope it will stay the same, as it was a refreshing change to many of the over hyped events of late. If you want to find out more about Leo's Casino click here and for more information about Hairdressing, Beauty and Complementary Therapy courses at Wirral Met College click here or call:- 0151 551 7777. But before we forget to say:- "CONGRATULATIONS" to Stephanie for winning the title!!!
To see our photographic coverage of this event, please click on here now! Also video of her winning will be added on Friday to our Facebook page…
B.O.A. 70th Anniversary DVD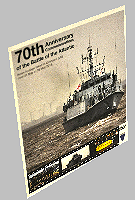 THE video footage we have taken at the 70th BOA events this year in Liverpool has now been fully edited is available to buy, on a DVD, from our Online Shop, on Mersey Reporter very soon. For each DVD sold, £3.00 will go to the Liverpool's Lord Mayor's Charity Appeal. (Registered Charity No. 229539) At this stage we can only do UK postage options, but if you are outside the UK, you can still order copies, but only by emailing us to:- news24@merseyreporter.com with your FULL address and we will get back to you with a postage cost and a payment link, should you wish to continue.
...HAPPY BIRTHDAY...
If you have someone you want to say happy birthday to, for free, then use the email address below to send us the names you want us say happy birthday to, and/or a photograph. Email us today!