Queenscourt Hospice Santa Sprint 2016

Photographs by Patrick Trollope.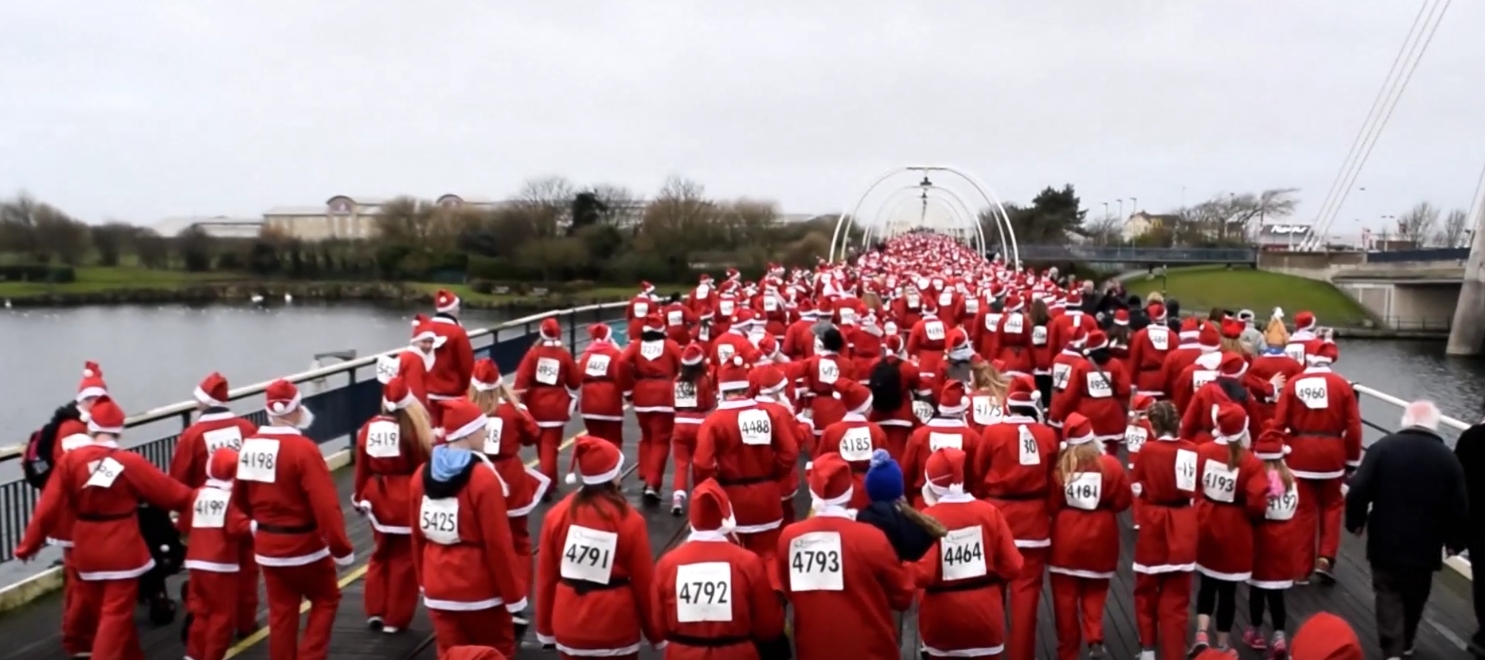 ON Sunday, 11 December 2016, Southport Pier became a sea of red when hundreds of Santa's turned out for the Queenscourt Hospice Santa Sprint. This is an annual dash around the tourist resort's seafront's historic Pier and Promenade. All who took part got a special 'Santa Sprint' medal after completing the approximately 2km course. It was not just the dash taking place for the charity, but on the large as well, Santa's turned out on Stand Up Paddle Boards, as members of the SUP North waved on the runners above them, on the Pier, before doing a lap of the Marine Lake themselves. This might not be as big as some of the Santa Runs, but all who took part definitely seemed to have fun. This year's Southport Santa Sprint was again sponsored by Silcock Leisure Group.

Please let us know what you thought of this event via emailing us to:- News24@SouthportReporter.com and also do not forget to enter next years!

Click on here to see our photographic coverage from this event.

If you do not know about the amazing work this local charity does, Queenscourt Hospice provides support for the people of Southport, Formby and West Lancs. They look after for patients with serious illnesses, enabling them to achieve the best possible quality of life, at each new stage. More information about the charity go to:- QueensCourt.Org.UK.
To see more photos of the Santa Sprint, click on here.
To see more photos of the Santa Sprint, click on here.
It's worth making a note that the Southport New Years Day event is also a family fun event, but this one is not for the faint hearted. Like the Sprint, it is also raising money for local charities, this time Southport Lifeboat. For more information about that event, visit:- TheFernley.Co.UK.
Christmas 2016 Church Services - Formby
THIS is a list of years Churches Together in Formby, Altcar and Hightown Church Services. Special family services are highlighted in BOLD.
Formby Elim Pentecostal Church, Church Road, Formby
25 December
10:45am
Christmas Celebration
Holy Trinity CofE Redgate School, Formby
18 December
10:45am
Carol Service
25 December
10:45am
Family Communion
Holy Trinity CofE Church, Rosemary Lane, Formby
18 December
6:30pm
Carol Service
24 December
10am
Little Tiddlers Service
11:30pm
Midnight Communion
25 December
8:45am
Holly Communion
11:00am
Christingle
Our Lady of Victories, Hightown
24 December
11:30pm
Mass
25 December
11:15am
Mass
St Peter's CofE Church, Green Lane, Altcar
20 December
6:30pm
Carols by Candlelight
24 December
3:00pm
Christingle - pre-school
4:30pm
Christingle - primary
6:00pm
Christingle - traditional
11:30pm
Midnight Eucharist
25 December
8:00am
Eucharist
10:00am
Parish Eucharist
Our Lady of Compassion RC Church, School Lane, Formby
24 December
11:30pm
Carols and Midnight Mass
25 December
9:00am
Mass
11:00am
Family Mass
St Jerome's RC Church, Greenloons Drive, Formby
24 December
6:00pm
Vigil Mass
25 December
9:00am
Family Mass
St Anne's RC Chuch, Timms Lane, Formby
25 December
10:00am
Mass
St Michael's CofE Church, Altcar
18 December
4:00pm
Carol Service
24 December
11:30pm
Midnight Communion
25 December
9:30am
Family Communion
St Luke's Church CofE, St Luke's Church Road, Formby
11 December
4:00pm
Christingle Service
24 December
4:00pm
Crib Service
11:15pm
Midnight Holy Communion
25 December
9:30am
Family Communion
St Stephen's CofE, Hightown
21 December
6:00pm
9 Lessons and Carols
24 December
3:00pm
Christingle Service
5:00pm
Christingle Service
11:30pm
Midnight Eucharist
25 December
9:00am
Holy Communion
10:30am
Family Eucharist