Rainbow Colours Spread Love And Pride City Wide Including World Famous Liver Birds
Photograph by David Munn.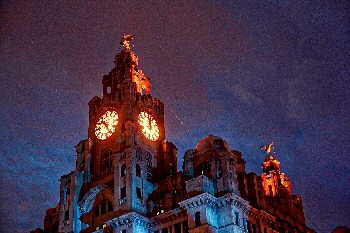 LIVERPOOL has turned all the colours of the rainbow; and with the help of Liverpool Pride's headline sponsor Barclays, even the City's world famous Liver Birds have become birds of paradise on their posts high above the River Mersey to celebrate the return of Liverpool Pride Festival 2017.

The countdown is now on until the 8th consecutive Liverpool Pride Festival, which takes place across the weekend of Saturday, 29 July and Sunday, 30 July 2017, in the grounds of the spectacular St George's Hall Liverpool.

On Thursday, 20 July 2017, the colourful rainbow curtain raiser to the festival was launched with the return of the increasingly popular Come Out Of The Shadows initiative, which will run for 10 days. Each evening from 10pm until the final day of the festival, on Sunday, 30 July 2017, more than 30 iconic landmarks and buildings are illuminated in the iconic rainbow colours. They will shine as beacons of light to raise awareness of LGBT+ hate crimes and to showcase Liverpool as a visibly LGBT+ friendly City. Come Out Of The Shadows is supported by the Police and Crime Commissioner.

Guests and VIPs were invited to a special viewing at St John's Beacon; which is also supporting the project; where they had special access to look out across the City to see the Come Out Of The Shadows venues become illuminated as dusk fell. During the evening, organisers Liverpool Pride were excited to reveal that with the support of Barclays the iconic Liver Birds are also on board for:- 'Come Out Of The Shadows 2017.'

The pair of 18ft Liver Bird statues proudly sit atop of the Royal Liver Building at Pier Head Liverpool, one facing in towards the City and the other looking out towards the River Mersey. The rainbow colours will be rotated, enabling visitors across the City to see the Liver Birds change colour.

The famous bronze birds are said to protect the City of Liverpool with one statue facing towards the City protecting its people and 1 facing out to sea, protecting prosperity. The support of Barclays has enabled Liverpool Pride on behalf of the City to illuminate Liverpool's most recognisable landmark symbolising the Liver Birds protection and acceptance of all people.

'Come Out Of The Shadows' aims to showcase Liverpool, both inwardly and outwardly, as an inclusive, diverse and tolerant LGBT+ friendly City, while at the same time helping to educate, raise awareness and normalise LGBT+ across all communities. The overall aim is to make Liverpool a safer place for residents and visitors alike.

Michael Carey from Liverpool Pride commented:- "We are absolutely thrilled that our most iconic landmarks and spectacular buildings, both in the City Centre and across the wider Liverpool City Region, are throwing their support behind this year's Come Out Of The Shadows. This has to be 1 of our most ambitious Pride projects; and we're delighted that so many venues have come onboard to support such an important message. This year we had to go even bigger; we now have rainbow lit Liver Birds. Overwhelmed doesn't even come close, this is iconic for Liverpool Pride."

Illuminated cultural buildings include:- St George's Hall Liverpool; The Kop at Liverpool Football Club's Anfield Stadium; Liverpool Central Library; Liverpool Town Hall; The Bluecoat; FACT; Liverpool Everyman Theatre; New Brighton's Floral Pavilion; The Atkinson in Southport; World Museum; and Dr. Martin Luther King Jr. Building, part of National Museums Liverpool, at Albert Dock Liverpool (lit for Pride weekend only).

Also taking part are the:- Cunard Building at Pier Head Liverpool; St John's Beacon; ECHO Arena; Merseyside Police Headquarters; Liverpool John Lennon Airport; Barclays Bank on Lord Street; Regenda Group on Commutation Row opposite St George's Hall Plateau; St Bride's Church on Percy Street in the City's Georgian Quarter; and the tunnel at James Street Station.

Support is strong across Liverpool City Region with:- Knowsley's Greystone Footbridge; Our Place Knowsley Leisure and Culture Park; Steve Prescot Bridge in St Helens; Isla Gladstone Conservatory in Stanley Park; and Crosby Library all becoming illuminated.

Come Out Of The Shadows has the support of all 6 Liverpool City Region local authorities, and Town Halls in Bootle, Wallasey and St Helens will also be lit in rainbow colours.

A 10 day awareness campaign is also running alongside Come Out Of The Shadows, which highlights the initiative on the public screens across the City's streets and venues, as well as a public exhibition in Liverpool ONE.

Mark Armario, Director of Premier, Barclays UK said:- "As the most iconic of Liverpool emblems, we hope lighting up the Liver Birds in the colours of the rainbow will send a really powerful message across the City about the importance of diversity. At Barclays we want our colleagues, customers and clients to feel free to express who they are at all times. We've made great strides internally in creating an inclusive global workplace, but we want to go further. By supporting Liverpool Pride and the Come Out Of The Shadows project, we're saying... "this is who we are" and we want to encourage everyone else to be able to say who they are, without fear. We would love as many businesses and organisations as possible to get involved in this very visual display of diversity, inclusion and safety in our City."

Liverpool Pride Festival 2017 takes place on Saturday, 29 July 2017 and Sunday, 30 July 2017. The theme of this year's Liverpool Pride is International Love, complementing the City's wider 50 Summers of Love festival, which celebrates 50 years since the decriminalisation of homosexuality. The annual Liverpool Pride March takes place on Saturday, 29 July 2017, and there will also be an afternoon and evening of entertainment in the St George's Quarter, headlined by Atomic Kitten.

"We Are Family day takes place on Sunday, 30 July 2017, and there is also a busy series of fringe events planned with theatre, cinema, literature and music events alongside a number of exhibitions. Liverpool Pride Festival 2017 is supported by headline sponsor Barclays, who are embarking upon a 12 month community partnership which will provide access to employment and financial services, as well as access to training for digital and financial awareness supported by the many Barclays colleagues across its branch network and contact centres in Kirkby and Wavertree Technology Park. Barclays is proud to be a Stonewall Top Global Employer and to be recognised as the Stonewall Top Global Ally Programme 2017. Further support for the Liverpool Pride Festival 2017 also comes from Manchester Airport as the official Airport Sponsor; Radio City, as the official Media Partner; Homes For Everyone; and Signature Living as the official Hotel Partner.." said a spokesperson for Liverpool Pride.

Keep up to date with news from Liverpool Pride on:- LiverpoolPride.Co.UK.