Wicked Weekend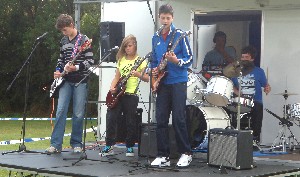 THE first ever Wicked Weekend, an exciting two day youth festival, was held over the 25 August 2007 and 26 August 2007 on Princes Park Southport.
The event was hailed as a huge success attracting young people from all over Merseyside to the event that had a mobile skate park, with free tuition from Team Extreme, BMX ramps, inline skating demonstrations, five-a-side football thanks to Southport FC. A climbing wall, street dancers of all ages, funfair, a graffiti wall, as well as other side shows and events.
The event also was a huge attraction thanks to it offering local bands the chance to play and show off their talent and play live to their friends and families on an open air stage.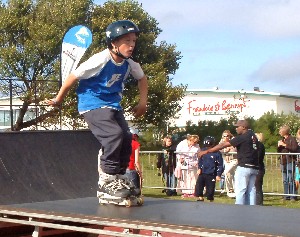 But best off all... yes all this was FREE!
The event was organised by Sefton MBC's Youth Services, Arcade Sports, The Champion, Merseyside Police and a group of youths.
Congratulations to all involved in this event. It is fantastic to see so many young people having fun and showing that they have some thing to offer the community.
We hope to see this run again next year!
Click here to see more photos from this event.
Liverpool's 800th Birthday Celebrations...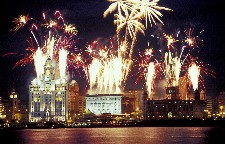 THE celebrations start at 10am at an invertation only service in the Liverpool Parich Church (Our Lady and St Nicholas). Then a procession will set off at 11:00am from the church, with members of Liverpool's oldest family leading visiting dignitaries in a civic procession from St Nicholas Church. The route will go down The Strand, James Street, Castle Street ending at Liverpool's Town Hall. Then at 11:30am the official party starts on 28 Tuesday 2007 with the Liverpool 800 Pageant. This procession around the city centre will have 800 perfomers decked out in costumes representing icons themes from Liverpool's past and present. The route will take it from Churchill flyover, Dale Street, Castle Street, Lord Street, Whitechapel, St Johns Lane and ending at St George's Hall.

Then the fun continues through out the day as pageant participants head to festival squares, where their will be live music and entertainment. Other venues and parts of the city will also be holding events!

At the very end of the day, with the setting of the sun over the river Mersey, the preparations will be underway for a spectacular firework finale. This will be an a show not to be missed... illuminating some of the city's most iconic architecture and set to a soundtrack broadcast live on Radio City 96.7. The fireworks will blast into the sky at 10pm lasting exactly twenty minutes and seven second (00:20.07) from three fixed points in front of the Three Graces at the Pier Head and the roofs of the two Cathedrals.
Road closures for the Liverpool 800 Pageant:-

Birkenhead Tunnel Strand exit closed 0930hrs to 1230hrs
The Strand closed 1100hrs to 1130hrs; Castle Street closed 1030hrs to 1400hrs; James Street, Lord Street, Victoria Street, Dale Street, North John Street closed from approx 1100hrs to 1330hrs

Road closures for the Liverpool 800 Fireworks:-

Waterfront:- Major closures on The Strand from Great Howard Street on the North side to Liver Street at the South end, including minor roads in and around Chapel Street, Water Street, Brunswick and James Street, from 2000hrs to 2359hrs.

Metropolitan Cathedral:- There will be major closures around Brownlow Hill, Mount Pleasant, Oxford Street, Grove Street, Myrtle Street, and Hope Street from 2000hrs to 2359hrs.

Anglican Cathedral:- There will be major closures around Upper Duke Street, Canning Street, Upper Parliament Street and Great George Street, Hope Street from 2000hrs to 2359hrs.