Southport Kidney Fund Acoustica 2009 Is A Hit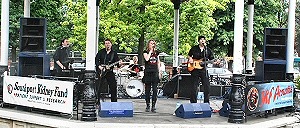 SOUTHPORT Kidney Fund, on 4 July 2009, put on their annual event, called the SKF Acoustica, again this year on The Bandstand, on Lord Street, next to the Vincent Hotel. This was the third time they have done this live music event, and what a show it was.
The event was aimed at raising awareness of Kidney Disease and the need for organ donors. All the money raised at this event goes to helping kidney research and supporting those affected by the disease.
Luckily for the charity, the weather was mostly dry, but sadly, the last two bands on the bandstand had the heavens open on them. This did not put the audience off, but they did run for cover under the trees and also under the boulevards.
This event involved a large range of different types of acoustic music. Playing at the SKF Acoustica 2009, were the following bands:- Krystina, Feelin' Groovy, Northern Daze, Cheap Cuts, The Aviators, The Arkanes and Dante Fox. Also at the event, a prize draw took place with lots of fantastic prizes.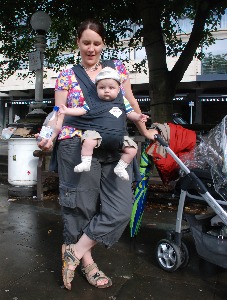 Well done and we look forward to next year's event.
Click on HERE to see our photographic coverage of this event.
For more information about the event and for next year's (2010) information, go to link:- skfacoustica.org.
The Worlds Worst Quiz Is Back!
THE Ozzy and the Limey (Nigel & Patrick) took to the microphone at the Wellington Pub, on East Bank Street on Sunday for the fist of what is hoped to be many Quiz night... So if you think you can get the correct answers to the worlds worst quiz, then head on down this Sunday, from 8pm to late!