Kathleen and May... Visitors and friends sought...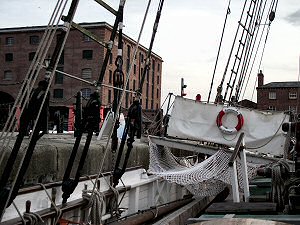 IT is always great to see Tall Ships in the Albert and Canning Docks. This week there was Pelican, an adventure training ship and the Kathleen and May. The latter is remaining here at least until September, but hopefully more permanently. Kathleen and May have fascinating history and a very special present! Built in 1900 at Connah's Quay, North Wales, she is the sole survivor of what were hundreds of trading schooners which plied the coasts of South and Western Britain and of Ireland. She was fitted with an engine in the 1930s and last traded in 1961, when the advent of the early motorways finally put paid to the coastal traffic. In 1972, she comprised part of the Duke of Edinburgh's Maritime Trust and is listed in the top 50 of the Core Collection of important historical vessels, alongside the Cutty Sark and HMS Victory! A few years later, she had been abandoned and was rotting again. She had made her way from London to Gloucester and was about to meet her demise by being burnt as a pirate ship as part of film making. She was rescued by Steven Clarke, a councillor from Bideford, Devon, who took her took back there where he funded her restoration, with the help of a band of voluntary shipwrights and ordinary volunteers. She was lovingly revived and is now in full sailing order. She is allegedly the Charlotte Rhodes of BBC TV Onedin Line fame (but there was more than one ship involved). Kathleen and May has also taken part in the Pirate Weekend so can fly the Jolly Roger. But importantly, when sailing she is entitled to fly the Historical Ships Royal Ensign which gains her Royal Navy salutes!

However, due to building work in Bideford, her mooring there became untenable. Fortunately owners, Steve and Marilyn Clarke had enthusiastic friends, Jeff and Cindy Grice, who gallantly stepped in to help. They had been greatly taken with Liverpool on previous visits and decided that our City would make great home for her, so sailed her up to her new berth in Canning Dock where she remains adjacent to the Maritime Museum. She is now open to the public every weekend and visitors are free to enter and explore the whole ship, to read her history and to watch a video.

Do come to see her and bring your family and friends! Entrance is free, but all donations will be gratefully received as this is a totally unfunded effort to save her. It is hoped to extend visiting to weekdays and to offer local sailing trips and over-night voyages further afield. A lot of this depends on the results of the next request.

Because of the move, the ship is bereft of its erstwhile supporters, so a BIG, BIG PLEA for VOLUNTEERS, who are urgently needed to man the ship whilst open to the public and/or to help with maintenance. Commitment can either be on a regular or occasional basis and the more helpers the merrier. Come on Merseysiders, there is good drop of salt water in the veins of most of us; Jeff and Cindy have put their faith in Liverpool. Let's not let them down. Kathleen and May is a great asset to our City. For more information go to:- kathleen-and-may.co.uk.
Click on here to see more photographs of this ship.


KEEP up-to-d
ate...
with our daily news email service...
~ Sign up ~
to our new news service on Formby-Reporter.com.

If you subscribed you can keep in up-to-date with what's going on in and around Merseyside. It is free and we do not send out massive amounts of emails. Also your email is kept under the UK's Data Protection Act, so you can be sure that you will not have problems.