In the Footsteps of Giants 2014...
Photograph by Patrick Trollope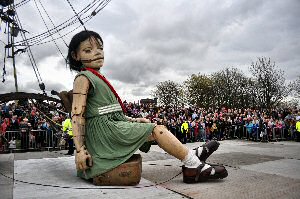 SINCE Memories of August 1914 was announced in January, there has been speculation about where exactly the giants will explore during their time here. And now, the world famous street theatre experts behind the event, Royal de Luxe, are letting us in on the secrets. The event runs from the 23 July 2014 to 27 July 2014, with the main 'walking' action taking place during the final 3 days 25 July to 27 July 2014. The action kicks off at 11am on the Friday as the Little Girl Giant and her playful canine Xolo (pronounced cho-low) wake up outside the entrance to the Queensway Tunnel and begin their exploration of the City. Meanwhile, the Grandmother, who will have spent the previous two days asleep in the magnificent surroundings of the Great Hall in St George's Hall, will wake from her slumber outside the Hall (opposite Lime Street) and will set off in search of the youngster and her pet. The 3 giants will be reunited in Newsham Park around 8pm. During the event the routes will take in various landmarks including William Brown Street, the Town Hall, the World Heritage Waterfront, the Chinese Arch, the Metropolitan and the Anglican Cathedrals, Newsham Park and Canning Dock. The culmination of the 3 days will see the giants sail away on the River Mersey.

Mayor of Liverpool, Joe Anderson, said:- "Revealing the full route means everyone can get to grips with just how massive this event is; not just in terms of the scale of the planning and the production of the event itself, but it highlights that this City is ground breaking when it comes to hosting breath taking artistic events of this scale. We are working with great artists who are inspired by a great City; our streets are quite literally their stage and without a doubt they are going to put on a memorable show for the hundreds and thousands of people who will be lucky enough to be part of this experience. The show takes in two huge open spaces – Newsham Park and Clarence Dock and giving people the details this far in advance means that visitors can plan their days and pick which locations they want to view the giants from. And of course, it's important we emphasise that all the timings given are a guide and not set in stone, but after all, when these giants are awake, anything can happen! Liverpool is at the heart of the story; to be able to hear the stories of our elderly community really is a privilege. Their family memories recalling such a turning point in world history will be both fascinating and moving for everyone involved."

The to see our information page that you can print off, containing the giants route and times, please click on here now. Also hardcopy leaflets will be available in the next couple of weeks from places such as Tourist Information Centres, train stations and visitor attractions. Plus to keep up with the latest news visit:- giantspectacular.com.
Councillor Erica Kemp has been sworn in as the new Lord Mayor of Liverpool
ON Wednesday, 11 June 2014, Councillor Kemp, who was born in Southend-on-Sea, has made the new Lord Mayor of Liverpool. She has Liverpool her home since moving here with her mother following the death of her father in 1962 and has told the media that:- "It is an honour and a privilege to be asked to take on the role of Lord Mayor of Liverpool. I am passionate and proud of this wonderful City and its rich mixture of people. I am hoping that this position will enable me to meet with as many of the wonderful Liverpudlians who make this City so special. I am also delighted that my younger daughter will be joining me on the momentous journey. I aim to not only raise money for some very worthy causes, but also to engage the local community in volunteering and making a difference to the area in which they live." Erica, along with consort, daughter Rachel, will make up the 1st all female Mayoral team since 1997. If you do not know who Councillor Kemp is, she is a qualified teacher, who has taught at schools in Liverpool and Knowsley specialising in teaching children with learning and behavioural difficulties. She left the profession in 2002 to work in local government and is married to fellow Councillor Richard Kemp. Her nominated charities are The Alzheimer's Society, The County of Merseyside Branch of The Soldiers, Sailors, Airmen and Families Association (SSAFA), Teenage Cancer Trust and The Reader Organisation.

| | | |
| --- | --- | --- |
| | Click on to read on! | Click on to read on! |
B.O.A. 70th Anniversary DVD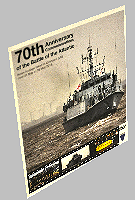 THE video footage we have taken at the 70th BOA events this year in Liverpool has now been fully edited is available to buy, on a DVD, from our Online Shop, on Mersey Reporter very soon. For each DVD sold, £3.00 will go to the Liverpool's Lord Mayor's Charity Appeal. (Registered Charity No. 229539) At this stage we can only do UK postage options, but if you are outside the UK, you can still order copies, but only via emailing us:- news24@merseyreporter.com with your FULL address and we will get back to you with a postage cost and a payment link, should you wish to continue.

KEEP up-2-d

ate




with our free daily news emails.



Are you subscribed? Si

g

n

u

p

today

to

our daily email news service via... Formb

y

-

Re

p

orter

.com



If you subscribed you can keep in up-to-date with what's going on in and around Merseyside. It is free and we do not send out massive amounts of emails. Your email is kept under the UK's Data Protection Act, so you can be sure that you will not have problems.
...HAPPY BIRTHDAY...
If you have someone you want to say happy birthday to, for free, then use the email address below to send us the names you want us say happy birthday to, and/or a photograph. Email us today!