Giants in Liverpool - Part 1
Photograph by Patrick Trollope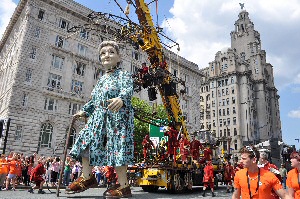 STARTING on Wednesday, 23 July 2014, the Grandmother Giant was revealed to the public for the first time. The quew to see it was massive, and built up extremely quickly, but that was only the start. As well as the Grandmother Giant 'asleep' in a giant bed, in the historic St George's Hall, over a 2 day build up to the main event, flash shows popped up though out the City. These flash-up-mob style re-enactments of Lord Derby's call to take up arms in August 1914. Lord Derby's rally cry lead to one of the most successful recruitment campaigns to Kitchener's Army, and the formation of the Liverpool Pals battalions. Giant's creators, Royal de Luxe, Director Jean-Luc Courcoult's stories which the Giants read out were based on letters and memories sent home from 2 of the members of one of those battalions. Sadly, unless you had the luck to get to hear the acts performed by the Grandmother Giant, it was kind of hard to see the connection for the first 2 days of the main event, but on the last day, Sunday, 27 July 2014, the show came together and included the 1st World War aspect of the event with all 3 Giants. No matter if this did or did not work as a memorial piece; it has still captured the imagination of thousands and brought in lots of money to the City. So much so that, Liverpool's Mayor Joe Anderson, who was the driving force for their return has inequitably hailed the event as an "amazing success" for the City, and we can't see many who could object to that. So it is good news that we have heard that the Council is already talking about bringing them back again! Also the charismatic, eccentric Frenchman, Jean-Luc Courcoult is a well known fan of Liverpool and he is understood to favour the City ahead of other UK Cities, so will they return? Royal de Luxe is now on its way to Limerick, for 5 September to 7 September as part of their City of Culture celebrations. Then they are heading for Australia and then the US. One of the reporters from Limerick said:- "Liverpool is amazing. We just hope that this buzz can be copied in our City, but we will not get this many people. Well, I don't think we will. We are really looking forward to seeing them, and after experiencing them here in Liverpool, we can safely say that our City is in for an amazing time!" This was echoed by visitors from the US and also Australia. Mayor Joe Anderson has said:- "We need to take stock. Both Titanic Sea Odyssey event and this one have been a fantastic success for the City and its image, but we have got other plans for the City. Jean–Luc does love Liverpool and we are looking at working closely together with him in the future. When I last spoke to Jean–Luc, he was very emotional as he was leaving Liverpool. He had tears in his eyes. We are both looking forward to something. Watch this space." But it was not just Jean–Luc who was filled with emotion, as the climatic end of the event you remembering the 5,000 men who joined the Pals and the 2,800 who lost their lives, never to set foot back home again. As the giants sailed out and Xolo the dog looked on and the actors playing the widows, actors playing the Pals, together with a military band, from the Albert Dock, quite a few in the audience had a tear or 2 in their eyes. Whether it was the sight of the Girl and Grand Mother leaving in the boat down the River Mersey, the story or a mixture of the 2, it was a very moving and emotion climax. Please take a minute to remember those brave men who have never returned and what they did for us.

Due to the extremely high numbers of photographs and amount of video we have taken, we are splitting this in to 2 editions. Part 2 will be in next week's edition, but for now please enjoy Part 1, with lots of videos and photos...
Click on here now to see Part 1.
We can sadly say, if you hold with us and see Part 2, you will be in for a treat, but for now, please enjoy Part 1.
| | | |
| --- | --- | --- |
| | Click on to read on! | Click on to read on! |
B.O.A. 70th Anniversary DVD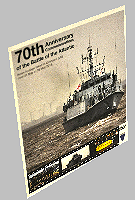 THE video footage we have taken at the 70th BOA events this year in Liverpool has now been fully edited is available to buy, on a DVD, from our Online Shop, on Mersey Reporter very soon. For each DVD sold, £3.00 will go to the Liverpool's Lord Mayor's Charity Appeal. (Registered Charity No. 229539) At this stage we can only do UK postage options, but if you are outside the UK, you can still order copies, but only via emailing us:- news24@merseyreporter.com with your FULL address and we will get back to you with a postage cost and a payment link, should you wish to continue.

KEEP up-2-d

ate




with our free daily news emails.



Are you subscribed? Si

g

n

u

p

today

to

our daily email news service via... Formb

y

-

Re

p

orter

.com



If you subscribed you can keep in up-to-date with what's going on in and around Merseyside. It is free and we do not send out massive amounts of emails. Your email is kept under the UK's Data Protection Act, so you can be sure that you will not have problems.
...HAPPY BIRTHDAY...
If you have someone you want to say happy birthday to, for free, then use the email address below to send us the names you want us say happy birthday to, and/or a photograph. Email us today!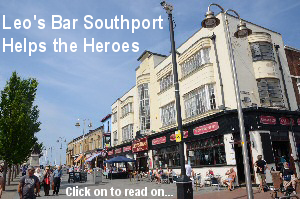 Formby the new Glastonbury
20th Anniversary of the Death of Leslie Woodard
Appeal for information following a serious RTC
Merseyside Police comments following the "Memories of August 1914" event
Can you help find the next of kin of Eric Pinnock?
Fake Tax Email Carries Virus
Leo's Bar Southport Helps the Heroes
The countdown begins - Crewsaver 24 Hour Race 2014!
Liverpool family raise funds in memory of young sister
Green Heritage and Flag Awards for Parks
Liverpool's "Memories of August 1914" - Giant Spectacular - Photos and Video - Part 1
Formby the new Glastonbury
Experts welcome Which? review that highlights not all Dash-Cams are equal
West Lancashire Light Railway
Major new cancer centre proposed for Merseyside and Cheshire
Park life leads to a unique link up with Big Apple for Birkenhead youngsters
Chancellor announces Mersey Gateway Bridge will be free to use for Halton residents
Homeless Battersea cat named in honour of England's swimmer Fran Halsall winning Commonwealth gold
Golden Year for Woolton in Bloom in the RHS Britain in Bloom 2014 Finals
Junior National Underwater Hockey Championships
Home owners hit by new accounting standards
Galloway's helps local Southport community make the most of their vision
Youth and play centres set to remain open
Lifelong Friends Raise £1,300 during Mountain Challenge
Give before you go
LIVERPOOL PRIDE 2014 ARRIVES THIS WEEKEND!
Southport Open Top Tours 2014 Season
Warning over loan scam
Construction team in Blackpool complete gruelling challenge to support charity
Call for volunteers to give cancer patients therapies
Firefighters issue further 8 days of strike action

FIREFIGHTERS have issued a further 8 day period of strike action as the Westminster government have not improved their pension proposals.

The current proposals in England and Wales are still unworkable and mean that firefighters will still face dismissal simply because they cannot maintain the high physical fitness requirements necessary for their role until they are age 60.

The proposals would also mean that if firefighters opt for early retirement, the reduction in their pension would be unacceptably high.

Matt Wrack, FBU general secretary, said:- "It is absolutely ludicrous that a government can impose a scheme which means that firefighters will have to ride engines and rescue people from fires up to age 60. This is unsafe and unrealistic for both firefighters and the public. We know it, and the public know it, but the government will not listen to the evidence based case we have made to them."

An improved position meaning that firefighters can retire with more flexibility from age 55 has been considered and costed by the government for more than 3 months, but has simply not been offered.

The costings provided by the Government's Actuary Department and released by DCLG mean firefighters who take early retirement would get a reduced pension of around 10% to 13% rather than the massive reduction that the government currently proposes.

Proposals incorporating flexible retirement options should be included in an improved offer for the FBU for its members to consider. Sean Starbuck, FBU national officer, says:- "It's extremely disappointing that we have had to issue more strike dates but the government are simply not listening to our concerns. We have a new fire minister but to date she doesn't appear to have listened to our case. The government still has an opportunity to improve their offer which could avoid the need for action."

No industrial action is being taken in Scotland and N Ireland as improved pension proposals are being discussed.

Starbuck added:- "Firefighters are angry as the Westminster government claims we don't want to resolve this dispute. This is absurd as the situation both in Scotland and N Ireland shows this is simply not the case."

The strikes will take place for 8 days from:- Saturday, 9 August 2014, until Saturday, 16 August 2014, between:- 12pm to 2pm and 22:59 to 23:59.