Deacon Blue has played at Aintree
Photograph by Patrick Trollope.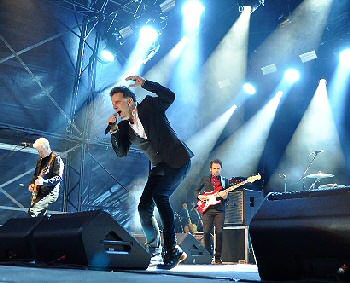 ON

Friday, 13 May 2016, it was a lucky day for some as Deacon Blue closed what was an amazing day at the races. This was the 1st event of the year, for the Jockey Club Live program, that will see live concerts closing a day's racing at racecourses throughout the North West. The weather was perfect for the day, but despite a nip in the wind, the weather held as the final race finished and the amazing Scottish pop rock band took to the stage outside the Paddock Lodge. Considering the band was formed in Glasgow during 1985, these lads still draw in the fans. Not many bands can say they can or do actually do that! And yes, they can still deliver a stunning show as well! The atmosphere was amazing and it was interesting to see a mix of ages enjoying it. Most were over the age of 30, but even the younger members and older race goers joined in and had fun. This is something you don't often see at most of the UK's outdoor events anymore... Sadly we could only get a few snaps on the night, as we had to dash off back to Light Nights, but what we did see and hear made us want to stay! To see the photographs, click on this here now. It is no wonder this was a sell out success for The Jockey Club. As this was the 1st Live Music Event of the year, in the North West, for The Jockey Club's live music entertainment program, it will be hard for other groups to top. Feed back from the Station staff on the Merseyrail Network, long after the event finished, said that people had been singing on the trains after attending the event and saying how good the event had been to them. If you attended we would love to know what you thought of this event, so please email our newsroom via:- News24@SouthportReporter.com and let us know. Also, it is worth knowing that there are still 17 events to go in the UK, like this 1, but for us on Merseyside, the next events that you should make a special note off are as follows:-

► Tom Jones, on 10 June 2016 at Aintree.
► The Corrs, on 18 June 2016 at- Haydock Park.
► Jess Glynne, on 1 July 2016 at Haydock Park.
► Lisa Stansfield, on 5 August 2016 at Haydock Park.

If you want to attend them, get your tickets quick as they will sell out fast, if not already! More information is available on the Jockey Club's website.

Plus for ladies, do not forget to get your hats for this year's race meetings!
See SPACE live in Southport!

Click here to get tickets!
B.O.A. 70th Anniversary DVD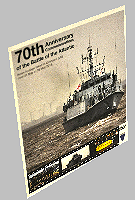 THE video footage we have taken at the 70th BOA events this year in Liverpool has now been fully edited is available to buy, on a DVD, from our Online Shop, on Mersey Reporter very soon. For each DVD sold, £3.00 will go to the Liverpool's Lord Mayor's Charity Appeal. (Registered Charity No. 229539) At this stage we can only do UK postage options, but if you are outside the UK, you can still order copies, but only via emailing our newsroom at:- news24@merseyreporter.com with your FULL address and we will get back to you with a postage cost and a payment link, should you wish to continue.