Gwen is the new Miss Southport!
Photograph by Patrick Trollope.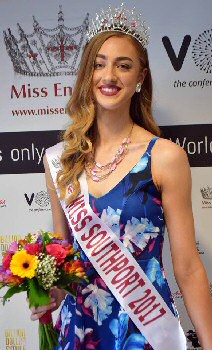 THE new Miss Southport is a fantastic young lady who will be making lots of trips into the Town to help promote it over the next year. The Miss England, Miss Southport Heats received over 35 entrants to the contest from all across England, but only 10 contestants were invited along to the final interview and photo shoot, at Southport's Ramada Plaza, on 13 June 2017. Despite coming from Rochdale, 18 year old, Gwen Raby is a fantastic choice for Southport. We met her on the day of the finals and we are blown away by her enthusiasm for the area. Just to give you a bit of background, Gwen goes to Pendleton College and is studying Musical Theatre.

She has told us that:- "All the girls who attended the Miss Southport Finals were amazing. I'm still in shock that I won! I can't wait to represent this amazing seaside resort in the Miss England final. I love Southport and it has a very big place in my heart. The judges said the reason they chose me was because of my campaign and charity work. This is 1 of the best things that's happened to me and I can't wait. Southport is where my family comes to relax and I feel that the town has to get the message out, just what an amazing place it is to visit. Myself, I believe Miss England should be someone who wants to represent all areas in England, but representing Southport, is for me, an absolute honour. I just hope that I can be a role model for others and encourage more local girls to take part in future Miss Southports. I know that Southport has had lots of amazing winners in the past, many of them have gone on to do amazing things... I know that this title is more than just a title, it is representing Southport, not only to the people in England, but also to the World. Before I entered, I had started a campaign, promoting positive body image and self esteem, to girls and ladies of all ages, called:- 'Big Up Sista.' My hope is that these titles will allow me to push it to more girls within Southport and surrounding areas. I can't wait to start promoting Southport and all the amazing things this Town has to offer..."

Some questions have been raised as to why a young lady from Rochdale has been picked, but the rules are very clear. Anybody living within an 80 mile radius of Southport can enter the competition as long as they are passionate about the place and want to promote it. This is exactly what she wants to do! In fact she had also already taken part in other events promoting the town, before applying for the title!

On the day of the crowning, Gwen, after finding out she had won, immediately impressed us by phoning the bosses to start to make arrangements to get time off work to come over and promote Woodvale Rally. She will now be joining Miss Liverpool City Region, Mr Liverpool City Region and others for her 1st public appearance at the show.

The judges on the day included:- Tracey Badley Robinson from Element 5 Hair and Beauty salon in Southport, Mr Liverpool City Region Thomas Khan, Pat Hughes who is the organiser of Miss Liverpool, and the reigning Miss England, Elizabeth Grant, from Preston who was Miss England 2016.

Gwen now hopes that her musical side will strike the right cord with the judges at this year's Miss England contest, due to be held 12 July to 14 July 2017, alongside the Mr England contest, in Resorts World Birmingham.

Gwen won a beautiful bouquet of flowers from June the Florist, a sash and Miss England heat winner's crown, ₤1,000 voucher to spend in Element 5 Hair and Beauty, in Southport, a ₤300 dress voucher from Just Boutique, Southport, a photo shoot with Third Avenue Photography and a years' representation with a local model agency.

Gwen, is now looking for a sponsor for the Miss England finals. To vote for Gwen to win text:- 'Miss England17' to:- 63333, 50p charge applies, and for some networks, it may also include your standard rate for text messaging.
Click on here to see our photos and video footage taken at the Miss Liverpool Finals.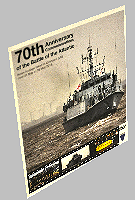 THE 70th BOA events this year in Liverpool has now been fully edited is available to buy, on a DVD, from our Online Shop, on Mersey Reporter very soon. For each DVD sold, ₤3.00 will go to Unique opera exhibition hits the right note at Central Library the Liverpool's Lord Mayor's Charity Appeal. (Registered Charity No. 229539) At this stage we can only do UK postage options, but if you are outside the UK, you can still order copies, but only via emailing our newsroom at:- news24@merseyreporter.com with your FULL address and we will get back to you with a postage cost and a payment link, should you wish to continue.