A Southport Cannabis Factory Has Been Raided...!
Photographs thanks to the Met.

AT around 9:15am on Friday 10 March 06, officers from Merseyside Police executed a search warrant at an address on Lethbridge Road in Southport, Merseyside. Officers entered the address and recovered a hydroponics system worth about £30,000 and a substantial number of cannabis plants. A 29 year old man, from the Lancashire area, was arrested on suspicion of the cultivation of cannabis. Neighbourhood Inspector for Southport North East, Martin Woosey said:- "Thanks to information received from the local community we were able to uncover this cannabis factory. This operation underlines our determination to bring the people involved in the supply of controlled drugs to justice. We are committed to ridding the area of this menace, drugs and also providing advice and support to those whose lives they affect. I want to reassure people in our communities that we will do everything in our power to rid the local area of drug dealing and I would appeal to them to continue to contact us with any information they may have so that we can act on it. We rely heavily on the information provided to us by members of the local community and Merseyside Police acts on all information received."

Fact File:- Cannabis is the most widely used illegal drug in Britain and is an naturally occurring drug. The drug, made from the cannabis plant (Cannabis Sativa) resin, which is extracted from the buds and flowers.

Cannabis comes in a few different forms those being resin, dried herbs and liquid. In the UK it is mainly resin that you find being used. The drug has acquired various different names, some due to the strength of the end result. The most common street names of the drug are:- Blow, Wacky Backy, Ganja, Dope, Hash or Hashish, Grass, Pot and many more like... bhang, black, blast, blunts, bob hope, bush, dope, draw, hemp, herb, marijuana, pot, puff, northern lights, resin, sensi, sinsemilla, shit, skunk, smoke, soap, spliff, weed, zero. Some names are also based on where it comes from... Afghan, home grown, Moroccan etc. In the UK from the 29 January 2004, cannabis was reclassified from a class B to a Class C drug. Class C is reserved for substances with an accepted medical use, such as steroids, anti-depressants, and some tranquillisers, but it is still illegal and calls are now being made to change the rules to make it a class B drug again. In the United States, cannabis remains a Schedule I drug, along with LSD and heroin, carrying the severest federal penalties.

Do you think we should make this drug, as have the Americans, a Class A drug? Many users compare their daily cannabis habit with dependency on caffeine, but it is wrong to say it is not habit-forming. One very well known bad effect of cannabis is that you can't develop tolerance to it! Side effects range from feeling a little groggy and forgetful to anxiety, vomiting, dizziness, panic, paranoia and feelings of impending doom. Long term medical problems and long lasting damage are still an unknown factor. We still do not know enough about the side effects in the long term on the psychiatric and physical state of the user. It has been suggested that it may result in mental illness and even reproductive problems. The UK Department of Health summed it up neatly:- "Cannabis is a weakly addictive drug, but does induce dependence in a significant minority of regular users."

JOB ADVERT...

Bricklayers and associated trades required to carry out specialist structural repairs to housing.

Driving licence essential.

Tel:- 01825 713000.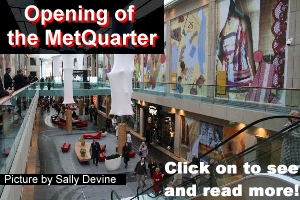 Mayor charged with four counts of benefit fraud
Liverpool congestion charge would be commercial suicide, warns FPB
Competition time!

AA "Patrolman Pete" Giveaway...

LAST WEEK!
Vue Film Showing Times.
Merseyside Police Officers in for questioning
Craig David Live
Opening of the MetQuarter shopping Centre Liverpool
LETTERS TO EDITOR:- "Parking and Merseyside Police in Formby"
Sefton Mayor at Casino
Mr & Miss Southport 06
Southport Cruisers... EASTER EGG RUN 06
Peter Brown Craven Minor League Results Week Ending 5 March 06
SALE... AUCTIONS... Stop & think!
DAVID BECKHAM AND CHARLOTTE CHURCH MAKE THE TOP 5, but ROYAL FAMILY DOMINATE TOP TEN
Legal action taken against trouble tenants
Improvement works to Winwick Road - Owen Street junction, Warrington
WORLD WAR 1 SOLDIERS' DEATH RECORDS FOR LIVERPOOL ONLINE
Sarah's memory lives on in new school
RUNCORN'S BIG WOOD GETS BIG SUPPORT
Pier Head landing stage, a week on
Wimbledon legends set for Liverpool
LIVERPOOL CIGARETTE MAN JAILED
THREE LIVERPOOL SONGWRITERS MAKE UK TOP 30 AND AIM FOR NUMBER ONE AT FINALS OF 06 AWARDS CEREMONY
Did Frog Spawn Croak As Spring Turned A Tad Polar?
Benefit cheats will be caught'
Plans for Stockton Heath Primary School are in the spotlight
Competition! Ideal Home Show 06
SCIENCE WEEK FOR FAMILIES
OFFICIAL YOUTH VOICE FOR CULTURE
Astronomy Day at Spaceport in Seacombe
REWARDS ON OFFER IF YOU RUN SOUTHPORT RACES!
CORRIE STAR HELPS CUT CAR CRIME IN LIVERPOOL
STATE OF THE CITIES… THE NORTHERN WAY RESPONSE
New local Website for the Wirral
FPB warns small firms to be on alert for criminal scams
CLIPPER VENTURES ANNOUNCE MARCH 25TH RE-START DATE FOR 05-06 RACE
Masters at Staying Put
Formby firm targets a million from garden waste
CARTOON SHORTS ARE COMING BACK TO THE CINEMA!
'THE STAR OF SHORT FILMS IS RISING'
Fujitsu tells UK companies to "Green up" their act!
Stories of Slippery Suitors & Lovers' Sweet Competition...
Patients being seen sooner and going home earlier
MERSEYSIDE CHILDREN INVITED TO PUT THEIR FAMILIES IN THE FRAME WITH BBC NORTH WEST TONIGHT
FLOETRY Live @ Carling Academy 2 Liverpool
Taking Back Sunday!
Conserving nature for the future
Council tax up by 49p per week!
Virtually helping the planet!
S.U.A.G. RACE NIGHT IN SOUTHPORT
Businesses take note:- AGE POSITIVE LAUNCHES NATIONAL AWARDS TO FIND BRITAIN'S AGE CRUSADERS
MPs HEAR HOW UK ENTREPRENEURS SUCCEED
A PASSION FOR FASHION
Local NHS Consultant retires after 30 years
Merseyside Local Authority honoured by the Royal Horticultural Society
HOLIDAY CHEER FOR DISABLED
Robbery on Lord Street, Southport
Children adopt animals
Readers Mobile Pictures...
~HAPPY BIRTHDAY~
If you have someone you want to say happy birthday to, for free,
then use the email address below to send us the names
you want us say happy birthday to, and/or a photograph.
Email us today at:-

birthdays

@southportreporter.com