Scarecrows, Daleks & K9 invade Liverpool's Spaceport!!!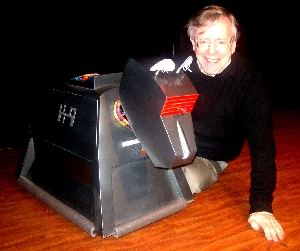 BE WARNED! Scarecrows and Daleks will invade Spaceport this weekend in search of their arch nemesis Doctor Who.

The costume characters will be taking over the attraction, dubbed the UK's most modern space-themed visitor attraction, on Saturday 1 November and Sunday 2 November 2008.
The voice behind K9 in the classic and new Doctor Who series, actor John Leeson, will also be there to sign free autographs, pose for pictures and meet and greet stargazers and visitors to the hugely popular The Art of Doctor Who exhibition running into 2009.
The weekend will also see the European premier of a brand new space show called Zula Patrol in Spaceport's very own Space Dome.

The programme, a smash hit across America and the Far East is set to take the UK by storm over the next year.

Ken Moss, Spaceport Manager, said:- "We are expecting more monsters than we've ever had and one of the programme's most iconic voices, so this is a must for Doctor Who fans, young and old. We are pleased John Leeson has come along to support us.

Despite all the monsters and aliens we know this will be a weekend of real laughs and we have a packed programme of entertainment all weekend so there will be something for everyone.

We are especially pleased to have been given unique access to Zula Patrol. This is the first time anyone in Europe will have seen this new cartoon, which has been so successful in the US and Far East.

The Hyde Fundraisers, who have been fantastic supporters of Spaceport and provide many of the costume characters for these special events, will also be donating a five figure cheque to Pudsey Bear of Children in Need. They are a fantastic fundraising team and we are delighted to support them."

Over the weekend, Davros will be at Spaceport, based at Seacombe Ferry Terminal, Wirral, building an army of Daleks, Donna will be avoiding the sinister Santa's and a team of Clockwork Droids could see time is up for some visitors!

The raft of characters, as well as some surprise monsters, will at the venue from around 10am on both days and everyone is welcome along.

Children are encouraged to come along in fancy dress and spot prizes and certificates will be given out for the best dressed during the weekend.

Classic Doctor Who characters including Ood, Daleks, Sycorax, Pig Guard, Brannigan, Dr Constantine and – of course – Pudsey Bear will ensure safe passage into and around the attraction for visitors.

Also taking place is the The Art of Doctor Who exhibition, a world first, gives visitors the chance to see how Doctor Who is created from the first script to the final television programme.

It showcases many of the actual props, costumes and monsters from the hit BBC series, together with some intriguing insights into how the programme is made.

Visitors can use interactive touch-screens, see exhibits on the craft behind monster making and catch up with what exactly goes on behind the scenes.

The displays feature the expertise behind many production areas, from special effects and CGI (computer generated imagery), to make-up and costume.

An infamous Dalek is also on show, alongside the TARDIS and many of the Time lord's age old enemies, including a Cyberman and the Sontaran.

Spaceport is owned and operated by Merseytravel and is based at Seacombe Ferry Terminal in Wirral, Merseyside.

For more details, prices on all of the services provided Spaceport, please visit:- www.spaceport.org.uk or contact them by phone on:- 0151 330 1333.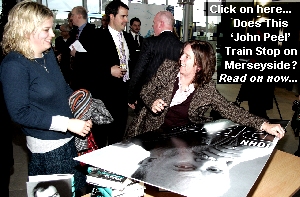 --- MORE NEWS REPORTS BELOW ---
Euro MP says Shield's must now be freed
Fairer charging for social care
YOUNGSTERS FROM THE NORTH WEST WILL MAKE YOU LAUGH OUT LOUD
Does This 'John Peel' Train Stop on Merseyside?
ONLY ONE MONTH TO GO FOR GIRLS WANTING TO BE TRUMP'S GIRL AT MISS UNIVERSE GB
Usdaw joins lobby for decent state pension
Southport Weekender 43 Update!
SOUTHPORT POLITICIAN NOMINATED FOR MEP OF THE YEAR AWARD
THIS YEARS SHOW WILL BE A BLAST!
Diamonds aren't a woman's best friend finds Diamond - it's girlfriends
Research shows nearly half of all local authority building stock is in poor condition
UFO at the Southport Air Show???
Pleasureland Reunion at Capilla Bar, Southport
Women urged to sign up to No Pay Day protest letter to Peter Mandelson
Merseytravel are top of the class!
I LIKE DRIVING IN MY CAR… (ON MY OWN)
Knowsley Arts & Events presents 'AUTUMN STRINGS'
Southport signs up for The Tour Series 2009
CHILDREN COUNT THEIR BLESSINGS AS WORK PROGRESSES ON £6.5M SCHOOL
Heritage Lottery Fund support announced for natural heritage across the North West
British Toilet Association
Green Party Euro candidate to visit Ormskirk
Liverpool 08 honoured at regional tourism 'Oscars'
MTV Liverpool Music Week Update
CD Review:- "The Lancashire Hotpots - Pot Sounds"
The end of incapacity benefit for new claimants and the start of employment support
Usdaw backs demands to cut retail crime
Letters to the Editor:- "Royal Mail's doubled profits"
MASTA EXPANDS TRAVEL CLINIC NETWORK WITH SOUTHPORT LAUNCH
MENINGITIS VACCINE REMINDER IN COUNTDOWN TO HAJJ
Temporary Agency Workers Gain Equal Rights
Support BBC Children in Need 2008 Night
'MTV Liverpool Music Week'
present in association with the
'Make it Break it Awards'
HELPING SMALL AND MEDIUM SIZED BUSINESSES THROUGH THE ECONOMIC SLOW DOWN
OOH LA LA... the North West of England FINDS NEW WAYS TO BEAT THE CRUNCH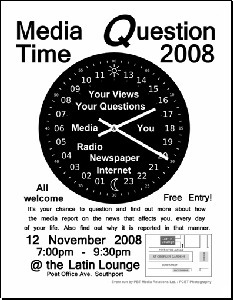 Media Question Time 2008 - Update
WEare now accepting advance questions from the public. Please email your question with your full name on it or send a letter with your name on to:- Media Question Time 08, Southport Reporter, 4a Post Office Ave. Southport, Merseyside, PR9 0US. A box will also be available for questions to be left at the Latin Lounge on Post Office Ave. Southport. Again, please put your question clearly on a letter and leave your full name. We can not guarantee all questions will be dealt with on the night, if we have too many we will pick them at random.

For more information about the night, please go to our information page via:- www.southportreporter.com/mqt08
Click on and print to help us promote this fantastic opportunity for you to have your say! .DOC (Word 2000 upwards) .JPG (Picture - all computers)

~HAPPY BIRTHDAY~
If you have someone you want to say happy birthday to, for free, then use the email address below to send us the names you want us say happy birthday to, and/or a photograph. Email us today!