MV Rotterdam visits Liverpool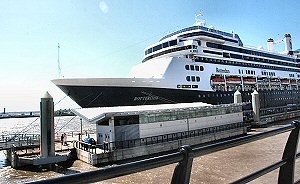 IN complete contrast to HMS Daring, at Liverpool Cruise Terminal, on Tuesday, 26 May 2009 was MV Rotterdam, a Holland America Line liner on a short stop-over to allow its passengers to visit Liverpool. With 60,000 gross tonnage she was a commanding presence. She sailed from New York and is visiting Belfast, Rotterdam and Copenhagen among her ports of call.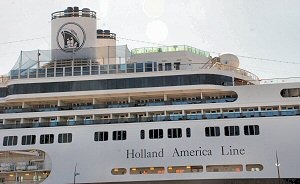 She has 1,300 guests and 600 crew we were told. Speaking to passengers returning from their visit into town; all their comments about the city were very favourable. Some had been pleasantly surprised, a very nice city and friendly people. One gentleman had liked Clayton Square, but not the Albert Dock (too fancy)! However even there he had liked the museum. Another person commented on the tremendous amount of new buildings and ongoing construction - "it was a great city". Most passengers we spoke to, were American and on their first visit here.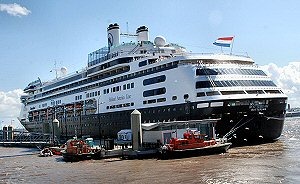 Hopefully now, more liners will follow. Hearing on the national news that this was the first trans-Atlantic liner to visit the port for 40 years, however, had us puzzled:- what of the QE2, Splendour of the Seas and such? Did we dream them, or is it that Liverpool is now firmly in the national eye.
Film about Maternity Services
A short film has been added to the Southport & Ormskirk Hospital NHS Trust website:- southportandormskirk.nhs.uk showing the unique bond between mothers and midwives.
Robin Rootes, a midwife at the hospital, who has produced the film explained:- "I am proud to have been able to produce this very special film. This is a new innovation, unique to our maternity unit and shows the special bond between mothers and staff. Because the message is in pictures, it can be viewed equally and understood by all. I would like to thank David McCollum of DMC Media Creative Solutions for help in the production of the film and special thanks to all the mothers, babies and staff who supported me in making the film."