Lancashire Hotpots Play Live In Southport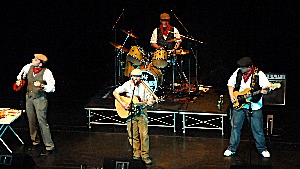 WHAT a fabulous night! Well t' Lancashire lads came out to play in Southport on 11 July 2009, and play they did. The St Helens based band, the Lancashire Hotpots, brought to Southport their fantastic hit numbers, like 'Beer Olympics', 'Chippy Tea', 'Chav' and the classic number, 'Lanky Town'… not forgetting the world famous hits, 'I Love Youtube' and 'I fear Ikea'. Despite the heavy rain outside that night, the event was a huge success, even though for some it was literally a wash out, due to copious tears of mirth pouring down their faces as the band got up to their antics. Well done lads… We look forward to your return… Also, if you want to hear their songs, tune your computer into our online radio station, Liverpool Reporter: to hear their fantastic interview with us, just before they headed off to Glastonbury, click on here now!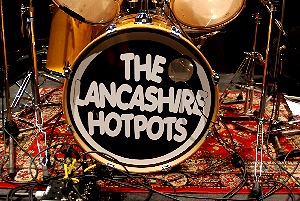 Respite breaks for carers in Liverpool!
THE City Council and Liverpool Primary Care Trust (PCT) have successfully bid for £675,000 of money from the Department of Health to become a pilot site to test new ways of supporting carers.

Liverpool has around 50,000 people who provide help and support for relatives, friends or neighbours who are ill, frail, disabled or have mental health or substance misuse problems.

Currently there are limited options for respite breaks that don't always meet the needs of carers or the person they look after.

The two year project will provide more accessible and flexible breaks and give carers their own budgets to enable them to choose the best way of meeting their own individual needs.

Councillor Ron Gould, executive member for health, care and safeguarding, said:- "People who provide care for others very often don't realise the impact it can have on their own physical and mental health. Through this scheme, we will be able to offer them the chance to have some 'me' time, while they relax in the knowledge that the person they care for is being well looked after."

Carer Maureen Keely from Childwall, who looks after her daughter Catherine, has benefited from respite breaks for the last five years and is welcoming the scheme.

She said:- "Respite breaks really help keep your sanity, because sometimes the illness of the person you are caring for takes over your whole life. We were lucky enough to have a wonderful person who came in and looked after my daughter while I went off to night classes for a couple of hours each week. It also gave my husband and I the freedom to go away on holiday together knowing she was safe with the person who was looking after her. Respite breaks are worth their weight in gold as they build up your self-esteem. Just to have the space to be yourself when caring for someone is so important."

Breaks could include short holidays, leisure activities, days out, trips to the cinema or adult education classes.

Care Services Minister, Phil Hope MP, added:- "To say that carers are unsung heroes and heroines is without doubt an understatement. We must help them maintain their own health and well-being and find better ways to support them. Caring can be a full time job – but, unlike a nine to five job, carers never stop working. It is essential that they are able to take breaks away from their caring roles. These projects will test a range of ways to ensure carers are better supported in their day to day caring role but are also able get more breaks and easier access to them."

Liverpool is one of only 12 places in the country – and the only one in the north west – to get funding for the pilot scheme.