Scare Fest 2 was a shivering delight!
Photos and report by Patrick Trollope.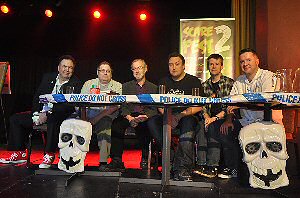 ANYONE would think it was nearly Halloween! So what do you get when you have 6 top authors, a stage and Halloween around the corner...? Fun and plenty of screamƨ! That was the case at The Civic in Crosby, on Tuesday, 20 October 2011. We had the honour of helping out with what was a outstanding night put on by Formby Books and Sefton Arts, in association with Yoshimi Digital and Sefton Celebrates Writing. Taking to the stage were Tommy Donbavand, Philip Caveney, Curtis Jobling, Jon Mayhew, Barry Hutchison and Joseph Delaney. All of them took up the 3 hours with things like role play, reading un-published chapters of books and even a scary live drawing demonstration by the would famous Curtis Jobling, who created 'Bob the Builder' and 'Frankenstein's Cat'. Their distinctive and very different style of writing, all combined with their passion and enthusiasm to engage the audience, proved to be a magical combination. Their antics should have not only provided a highly enjoyable night, as all the children and adults we asked agreed it was, but also an experience that will last a life time and hopefully inspire some of the next generation to become writers. To see out photograpic coverage of this event click on here now... Be warned, when browsing these images, if you see any ghosts; don't get frightened as they are friendly we have been told!

Don't forget that the authors books can be obtained via ourselves via Mersey Reporter and also via Formby Books.
Scare Kingdom Scream Park is calling you¡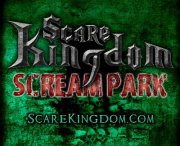 HAVE you visited yet? If you think Farmageddon send shivers through your spine... well you aint seen anything like this! Scare Kingdom Scream Park is the UK's newest Halloween entertainment park with ALL NEW attractions for 2011. Experience heart pounding horror attractions plus midway entertainments for thrill seekers, families and children. New for 2011 - Voodoo Bayou, Day of the Dead, HMS Hell, Blood Bath II, LuciFEAR's Mirror, Bloody Mary's Bar and three rides - Ghost Train, Dodgems and Waltzer, plus during the day - Hocus Pocus magic show for the under 10's Visit:- scarekingdom.com for discounted entry registration or book by calling:- 08444 77 1000..... NOW!!!!!
Audio Copy - (Experimental)

Click here to hear this weeks edition in audio format. Please let us know what you think about it. via emailing us. Also if you have a child who can draw a face, send one in and we will look at using it for our news reader for an edition. Adults can try as well! You will get a copy of the animation sent to you and credit on the animation as well!.
Manx
Direct

08447
402 038

2 Years Parts & Labour Worranty