It has not been a blast in Seaforth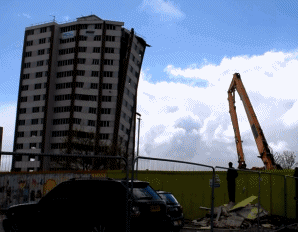 IT may appear funny at 1st, but in reality it just isn't, for over the weekend, 2 tower blocks in Seaforth, Merseyside where due to be demolished simultaneously, but sadly for both the demolition company and residents, this was not going to go to plan. One local resident said:- "These towers have been making problems ever since they got constructed and even now, when being removed, they are creating problems."

As the countdown took place, on Sunday, 24 April 2016 and residents in the exclusion zone had been moved to a safe area, all looked good. Then the charges went off, but neither of the blocks fell. At 1st, not knowing whether to laugh or cry, the demolition company's experts were stumped when the 1st controlled explosions failed. Then, a few hours later, as they started to find out what had gone wrong, without warning, 1 of the 15 storey tower blocks, Churchill House, suddenly collapsed! The other block remained standing over night, apparently looking intact, but in reality it posed a massive danger to both work crews and residents alike. A spokesperson for the Widnes company, which supplied the demolition squad, trading as J. Bryan (Victoria) Ltd for 15 years, told the crowd of spectators and residents that they had:- "experienced delays" and that they were trying:- "to get as many people safely back into their homes as possible." Sadly, for some, the failure to collapse the other block, Montgomery House, meant that all the people living on Claremont Road could not return home. This resulted in anger and frustration from some of those involved. The residents in the affected area had to be accommodated in a hotel for the night. One Vision Housing, which owns the property, then tweeted a statement from J. Bryan (Victoria) Ltd. that can be read by clicking on this link.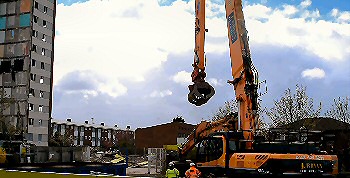 Monday at around 3 o'clock, charges were again fired, but nothing really happened; then as heavy duty JCB demolition plant equipment pulled on large cables attached to the building to try and get Montgomery House's structure to buckle. Next, despite the demolition team working valiantly in unthinkable danger, only a partial collapse of the North East section of the Seaforth tower block was achieved. The efforts at that point only made the structure even more dangerous and work had to stop to enable some structural engineers to reassess the situation. "It remained defiant. This block is Scouse, it truly wants to be remembered and will fight to stay alive, no matter what you throw at it..." 1 of the affected residents joked in despair. When asked why so many affected residents are joking about it by a member of the national press, he replied:- "Well what can you so? Laugh or cry? At least it gets us out of the house!": A typical Liverpool black humour response. So again, over Monday Night the people living on Claremont Road had to go to a hotel for another night. Both One Vision Housing and A J Bryan spokesperson have yet again thanked all the inconvenienced residents for their patience. Work is expected to continue to perform a "controlled collapse" of the remaining parts of the tower block.

Just before publication we have been told that J. Bryan (Victoria) Ltd. will now be doing a phased demolition of the remaining structure of Montgomery House. One Vision has said that:- "everything is being done for those residents affected by the ongoing exclusion zone. We have been told that the residents are now being made as comfortable as possible with hotel accommodation, food, drink and other provisions." One Vision have also said that:- "staff continue to be in attendance at the hotels to ensure that those residents have the relevant support and access to information. We have been told residents who live in the exclusion zone, they should contact One Vision Housing on:- 0300 365 1111, should they require further information or assistance." We would love to know if you are one of the residents affected and if this is the case.
Click on this link to see more photographs of the 3rd attempt to pull the block down.

Are you affected by this? Do you have any memories of the Tower Blocks you would like to share with us? If you have any memories, views or thoughts, please email us to:- News24@SouthportReporter.Com..
Hillsborough Inquest Jury reaches decision
IT was on 15 April 1989, that at a football match between Liverpool and Nottingham Forest at Hillsborough Stadium, Sheffield, to lead to disaster killing 96 people and injured 766 others. Ever since many deeply disturbing questions about the human crush that caused the deaths of so many, who was to blame, why and how it happened has been a matter of major political and social debate ever since. It has been a very long road for the families of the 96, but the final and definitive Hillsborough Inquest will release its findings on 26 April 201, after the Jury reached a majority decision on whether the Hillsborough deaths of the disaster victims were unlawful. Jurors had already reached unanimous conclusions for 13 of the questions, but could not decide on the last question until Tuesday. This decision, no matter what it is will be a painful one. This has been the longest running inquest in British legal history. At the hearing in Warrington, Cheshire, Coroner Sir John Goldring began his summing up back in 25 January 2016 and spoke to the jury for 26 days in total. Now whatever they decide will dictate history and any future action. Whatever, the sorrow of the victims' families and friends and indeed the anger and frustration has been compounded by a woeful neglect of justice, over an extensive time. Hopefully the final verdict, when delivered will give some resolution and one hopes that the situation will never ever occur again. We hope to bring you more via out Email News Updates, which can be accessed via Formby Reporter, via our Twitter account, as well as any other information that comes in, related to the inquest findings over the 26 April 2016.