Planet Circus Visits Southport ~ 2011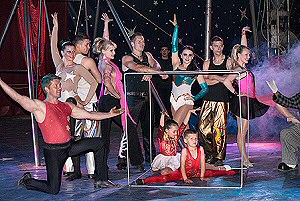 ON a windswept rain Saturday, 21 May 2011, I arrived at Pleasureland car park in Southport. I had some to see Planet Circus. I'd been told to:- "Expect the unexpected at the all human circus spectacular." At first sight the Big Top looked quite small, but inside it was fantastic, just how I expected a circus to be! Both adults and children alike were all filled with excitement and waited eagerly for the show to start. The lights went out, the curtains parted and illuminated by a spotlight; the Ring Master entered and announced:- "let the show begin."

First up were the acrobatic team, performing an array of stunts including juggling. Followed by a beautiful young lady who performed a wonderful tableau high up in the air balanced on a crescent moon. Chico Rico the clown entertained the crowd whilst the crew prepared for the next act. He had everyone clapping and joining in the fun.

Fantastic trampoline wrestlers performed next, each move carefully choreographed for maximum impact.

Then came Marco Polo a crazy Mexican high wire walking little daredevil. This act really has to be seen to be believed! Not only did he walk across the tightrope he balanced a chair in the middle and sat on it! And then he proceeded to put baskets
on his feet and ran across the tightrope…… blindfolded!

Back to Chico for more laughter and fun to keep us entertained. A UFO took off and the artists magically appeared from inside and gave us a stunning performance of their aerial acrobatic repertoire.

Next up was a dance competition. Featuring Micky and Minnie mouse, Sponge Bob, Alvin and Scooby. Minnie mouse was the victor! During a brief refreshment break, members of the audience were able to have photos taken with the cartoon characters. Souvenirs were also on sale.

Back to the show! The wheel of Death towering at 60 feet in the air saw Honza perform amazing feats of skill and balance cheating death at every spin. The audience gasped in amazement. On came Chico Rico with more hysterical comedy and fun!
Followed on by Ringmaster and Master Magician Gary Bond. He performed sensational illusions and magic. Chico then went
around picking members of the audience to perform a routine which had everyone both amazed and roaring with laughter. The final act was the Motor Cycling Thunderball Riders and the "Globe of Death". Billed as:- "four men, four motorbikes, one Globe of Death" which is actually a 16ft high round metal cage. Before our eyes spectacular, daredevil stunts were performed. The riders raced around the cage narrowly missing each other with superb skill. One rider is Europe's youngest stunt rider Peter Pavlov who is only 11years old and has been hailed as the new Evil Knieval. It was nail biting stuff with people on the edge of their seats!!!

After 2 hours of fun and excitement the finale featured all the stars in a farewell parade. Lots of smiles, wavering, cheering and clapping brought the wonderful show to an end. Everyone went home happy having done what they have always dreamed of……. Run away with the circus, at least for a short while.

A thourghly enjoyable performance would highly recommend it. Let's hope they revisit next year. 5 out of 5!

Click on here to see more photographs taken at this event.
Did you go to this Circus? If you did then please email our newsroom to:- news24@southportreporter.com and let us know your views and thoughts about it!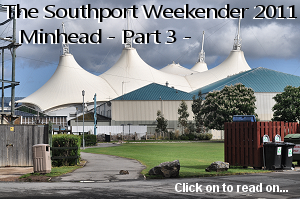 This week's news in pictures