2015 Artistic Gymnastics British Championships - Photos
Report by Patrick Trollope and Melanie Evans. Photographs by Jo Forrest.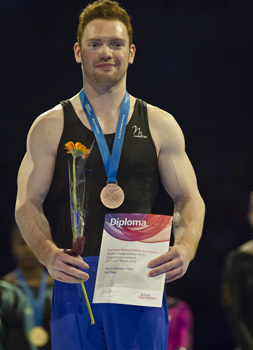 THE City of Liverpool Gymnastics Club is billed by many as the:- "Home of UK Gymnastics Champions!" and with the likes of Beth Tweddle, it is no wonder. Over 27 March to 29 March 2015, this powerhouse of gymnastic talent played host to the 2015 Artistic Gymnastics British Championships, which took place at the Liverpool ACC. Audiences were treated to a great exhibition of awe-inspiring performances from Britain's best, over an action packed 3 days. With top gymnasts battling it out on the floor to get places in the British team for the World Championships in Glasgow, as the 'Road to Rio' continues, this was not a competition to be overlooked by fans of the sport. The events started in Friday, 27 March, with the Women Juniors – All Round Competition, followed by the Men's Under 16 and Under 18 – All Round and Apparatus Finals Competition. Then, on Saturday, 28 March, the tension was edged up as the senior men and women took part in the all around competition, along with the men's apparatus finals. That was followed by the fight for the prestigious British titles. This event had the men competing on 6 pieces of apparatus and the women over 4, to find the very best gymnasts. These 1st rounds of competition saw gymnasts from all over the country aiming to set early standards. The evening brought yet more amazing action. This was when the world class gymnastics heroes, like Max Whitlock, Louis Smith, Rebecca Tunney, Claudia Fragapane and Becky Downie entered the arena, all competing for British glory. As these names, took to the floor audiences got a great chance to watch as the very best of British Gymnasts battling for those all important medals! Billed as:- "The best of the best in a fight for the titles!" it could not be missed and what a show it was! But it did not stop at that, as on Sunday, 29 March 2015, as the sun rose, the start of yet another action packed sequence began with the finals, where Britain's Crème de la Crème compete to be crowned champion, in any of the 6 men's and 4 women's apparatus events. In the men's Masters the top 8 male gymnasts from all age groups vied for glory, meaning the young stars came up against our Olympic heroes. The women's apparatus finals meanwhile featured both juniors and seniors, with world class performances guaranteed and delivered in full! All 3 days were awe-inspiring, with up close access to Britain's best and Olympic Champions both of today and tomorrow!

Melanie Evans who attended the gymnastics told us that:- "The 1st day of the British championships held at Liverpool Arena started in full swing with many outstanding performances from our women's junior all around gymnasts. It was billed as the "Battle of the Brits" and the girls and lads taking part all performed extremely impressive and highly challenging bar routines, especially our local Liverpool gymnasts. All gymnasts put on a spectacular show for the crowd in the evening as well as throughout the weekend. With the top gymnasts not only competing, but also going all out to entertain the audience, it has allowed the younger gymnasts of the future and those now already starting to compete a valuable chance to experience it, with such a fantastic atmosphere, that was guaranteed to inspire them. It was not just show though, as we must not forget that this was a true competition, so all participants had to have incredible focus throughout the competition, keeping their cool, but also delivering beautiful artistry as they performed on the floor. For me Catherine Lyons, (Europa gym club), especially stood out, showing both stunning control and elegant moves, with perfect execution on the floor. Maisie Methuen (Phoenix Club), also delivered routines that showed strength and precise execution. I also have to mention that I was impressed with Beckie Downie, who managed to keep her focus after a slight mistake in the floor, she impressively remained in the higher rankings, with striking routines, just behind Claudia Fragapane and Amy Finker The males competitors often get overlooked, but they proved that they could be just as flexible and graceful as the ladies, whilst delivering a far higher degree of physical power and strength in some of the sets. Lastly, well done to Southport's Southport YMCA Gymnastics Club, Dan and Frank, who had both, like all the others, trained tirelessly. Both of them performed amazingly, becoming Number 1 and Number 2 in the British Gymnasts Rankings, thanks to overwhelmingly good performances across 6 pieces of apparatus on the Saturday. But we cannot forget their coach, Jeff Brooks, who did a sterling job in getting them ready! Gymnastics is continuing to grow, as a sport, and with such great results coming out from all gymnasts, people are starting to recognise how difficult the sport is. The arena has proven to be a fantastic platform to show the public what British gymnastics is all about. It was fantastic to see all the hard work put in to this event, from the main organisers, the venue, and clubs to excellence volunteers, and not forgetting the gymnasts, you are all a credit to your country and to Liverpool! We just hope it returns soon to this venue and our City who is extremely proud of our Merseyside based gymnasts!"
To see our photographic coverage of this event, please click on here now!
For results and to get more information about the sport, visit UK's governing body, British Gymnastics, also known as the British Amateur Gymnastics Association, website.

If you attended, please let us know what you thought of the event by emailing us to:- news24@southportreporter.com. To see some of the photographs taken as the athletes exhibited their skills as they performed, please click on here now!
| | |
| --- | --- |
| | YOU CAN ORDER PHOTOS CLICK HERE TO FIND OUT HOW! |